Code review tools automate the code audit process. They help in static code analysis which is essential to deliver a reliable software application. There are plethora of code review tools in the market and selecting one for your project could be a challenge. In this blog, ArrowHiTech will review for you Top 10 flawless visual studio code review tools you need to know. So, let's explore them right now!
What Are visual studio code review tools?
Code Review Tools automate the code audit process. Code review process help in static code analysis, which is essential to deliver a reliable software application.
Why need visual studio code review tools?
Apart from speeding up the development process, there are many additional advantages to using an automated code review tool.
First and foremost, they help teams ensure that a continuous code review process is in place: That all the code review steps are implemented by the relevant team members, and that issues are tracked and resolved. 
Besides, code review tools assist to support collaboration between team members and across teams
Moreover, visual studio code review tools help ensure that ownership over code quality and security is shared, and that each voice is heard and addressed: This reduces friction between teams and also saves a lot of valuable time by providing team members with a platform for discussion and decision-making.
The ability to save and view the history of a bug or defect, making it easy to document, track, and share knowledge.
This documented history of the code review process is also a great learning resource for new team members. 
Code Review Process
The primary goal of the code review process is to assess any new code for bugs, errors, and quality standards set by the organization. The code review process should not just consist of one-sided feedback. Therefore, an intangible benefit of the code review process is the collective team's improved coding skills.
Firstly, you should decide who would review the code. If you belong to a small team, you may assign team leads to review all code. In a larger team size with multiple reviewers, you could enable a process in which every code review is assigned to an experienced developer based on their workload.
The next consideration for you is to decide on timelines, rounds, and minimal requirements for submitting code review requests.
The final consideration is about how feedback should be given in the code review process. Make sure you highlight the positive aspects of the code while suggesting alternatives for drawbacks.
Your feedback should be constructive enough to encourage the developer to understand your perspective and initiate a conversation when necessary.
Top 10 best code review tools
1. Review Assistant – one of the most common visual studio code review tools
Review Assistant is an extension to Visual Studio. It supports Visual Studio 2019, 2017, 2015, 2013, 2012, and 2010. Review Assistant helps to create review requests and respond to them without leaving IDE. It supports TFS, Subversion, Git, Mercurial, Perforce. Review Assistant adds the Code Review Board window to an IDE. The window is designed to manage all reviews available to a user.
Key features:
Flexible code reviews
Discussions in code
Iterative review with defect fixing
Email notifications
Rich integration features
Reporting and Statistics
Drop-in Replacement for Visual Studio Code Review Feature.
2. Review Board
Review Board is one of the best web-based, open source code review tools. To test this visual studio code review tools, you can either explore the demo on their website or download and set up the software on your server.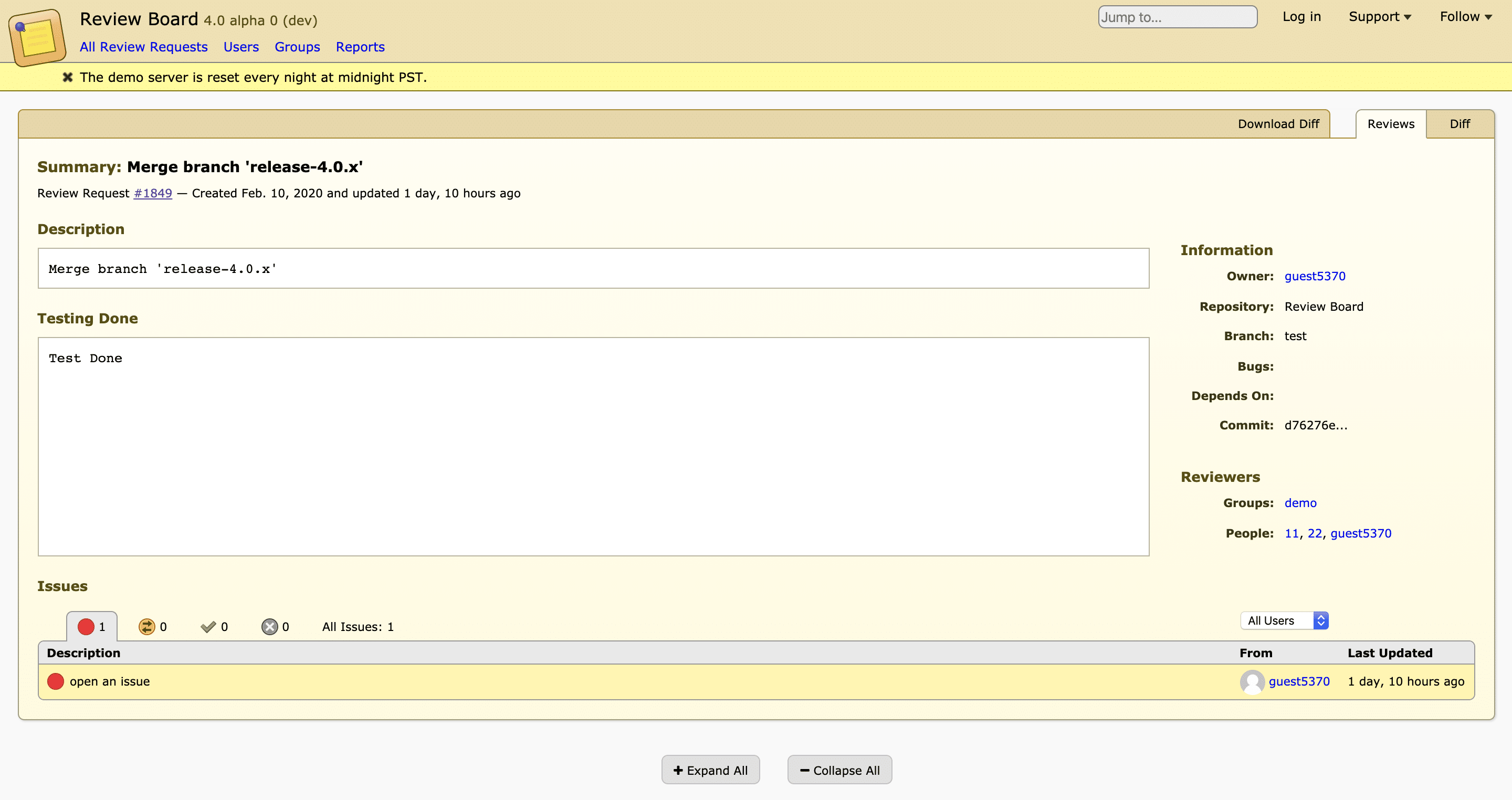 Review Board Overview
The Python programming language and its installers, MySQL or PostgreSQL as a database, and a web server are the prerequisites to run Review Board on a server.
You can integrate Review Board with a wide range of version control systems: Git, Mercurial, CVS, Subversion and Perforce. You can also link Review Board to Amazon S3 for storing screenshots directly in the tool.

Review Board is a simple tool for code reviews, which you can host on your server. You should give it a try if you do not wish to host your code on a public website.
3. Crucible – visual studio code review tools
Crucible is Atlassian's enterprise-level collaborative code review tools. Above all, it enables users to review code, discuss changes, share knowledge, and identify bugs. It defects as part of their workflow. Moreover, it supports SVN, Git, Mercurial, CVS, and Perforce. Being part of the Atlassian family, Crucible easily integrates with Jira, Bitbucket Server, Bamboo as well as many other tools that are part of the development workflow.
Crucible provides developers with the option of pinpointing the issues that they are referring to by commenting inline.
4. GitHub
Above all, if you use GitHub to maintain your Git repositories on the cloud, you may have already used forks and pull requests to review code. In case you have no idea of what GitHub is, here's a beginner's guide to GitHub and the differences between Git and GitHub.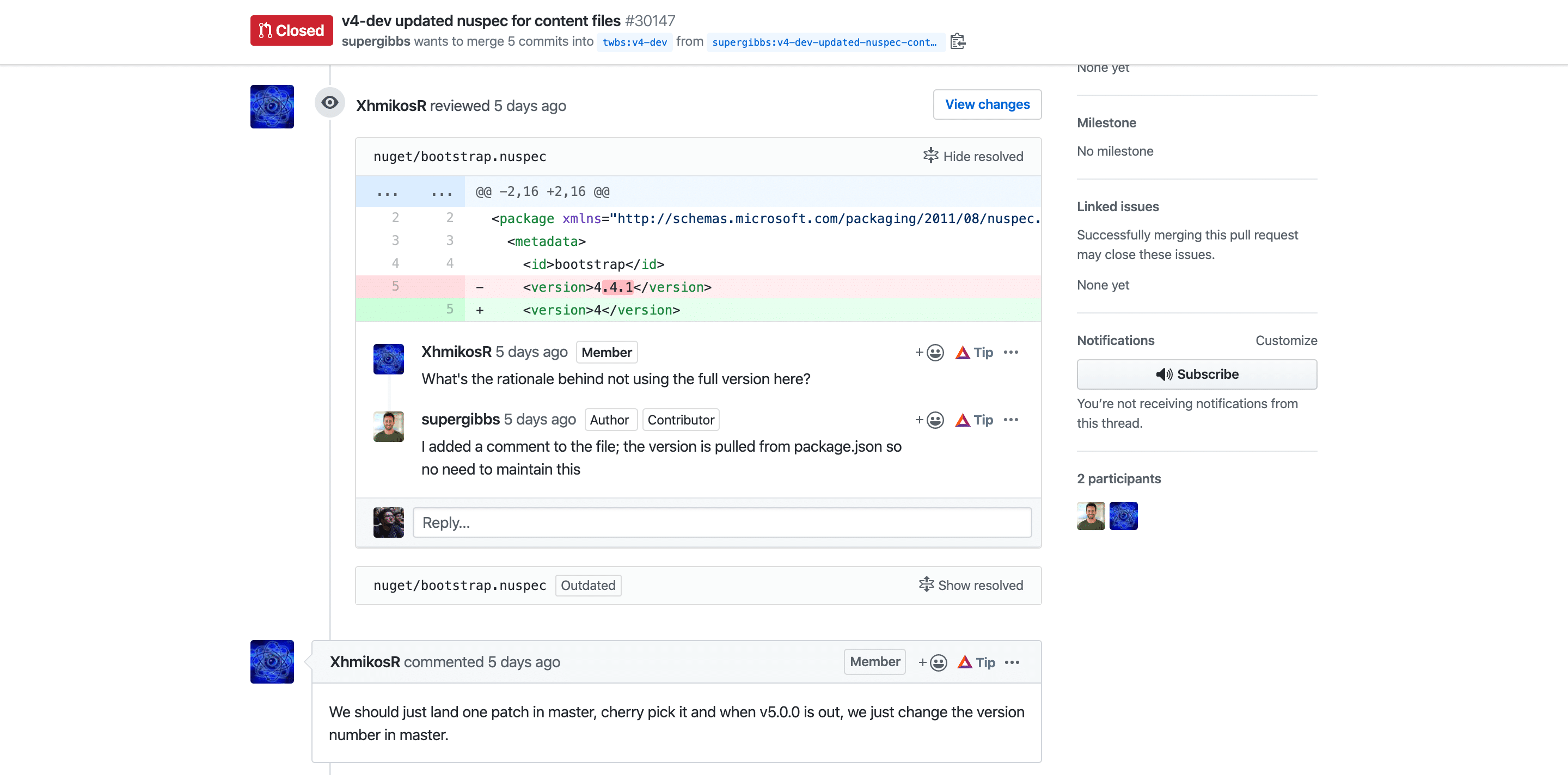 GitHub Code Review Tool within a Pull Request
This visual studio code review tools has an inbuilt code review tool in its pull requests. To clarify, the code review tool is bundled with GitHub's core service, which provides a free plan for developers. GitHub's free plan limits the number of users to three in private repositories. Paid plans start at $7 per month.
5. Reshift – best code review tools
Reshift is a SaaS-based software platform that helps software development teams identify more vulnerabilities faster in their own code before deploying to production. Reducing the cost and time of finding and fixing vulnerabilities, identifying the potential risk of data breaches. Moreover, it helps software companies achieve compliance and regulatory requirements.
Features:
Firstly, integrates with Github and Bitbucket
Secondly, this visual studio code review tools offers security in the team's processes through the pull-request workflow and avoids switching to other dashboards
Thirdly, tracks vulnerabilities per developer feature branch
Know critical vulnerabilities before merging into your master branch
Gating the build if a new vulnerability is introduced
Embold is a one of the powerful visual studio code review tools that analyses source code across 4 dimensions: code issues, design issues, metrics, and duplication. It surfaces issues that impact stability, robustness, security, and maintainability.
Features:
Patented anti-patterns show class, functional as well as method level structural issues in the code that negatively affect maintainability.
The Embold Score feature helps pinpoint risk areas and prioritize the most important fixes.
In addition, intuitive visuals like smart heatmaps portray the size and quality of every component of your software at a glance.
Free OS and cloud versions available.
Integrates with Github, Bitbucket, Azure, and Git as well as supports over 10 languages.
Free plugins for IntelliJ IDEA, Visual Studio and Eclipse available.
7. PVS-Studio – visual studio code review tools
PVS-Studio is a SAST tool for detecting bugs and security weaknesses in source code of programs in C, C++, C#, and Java. It also works on Windows, Linux, and MacOS.
Key Features:
Plugins for VisualStudio, IntelliJIDEA, Rider, SonarQube, Jenkins as well as similar products are provided to improve interaction with the analyzer.
Quick support. To clarify, Analyzer developers help users to solve issues.
More than 600 diagnostic rules. We release new diagnostics for detecting hidden bugs regularly.
Analysis of commits, merge as well as pull requests.
Improved quality of more than 380 projects.
8. Gerrit
This open-source, lightweight tool, built over the "Git version control system,". It is one of the best visual studio code review tools for python which is useful in project environments where all users are trusted committers as this tool allows them to check overall changes made in the project.
Features:
Gerrit is a code review software which stops the users from pushing directly to the Git repository
It also allows you to find the error in the source code
Helps you create a new change as well as makes an update of an existing one
In addtion, it is one of the best git code review tools that allows you to intermediate between developers and git repositories
9. Phabricator:
Phabricator is one of the open source visual studio code review tools for c# used as code scanner. It also includes light-weight web-based code review, planning, testing, finding bugs, etc.
Features:
Pre-Commit Code Review
Moreover, keeps track of a large number of bugs
In addition, it is one of the best visual studio code review tools that helps you to build unique task forms for each department
Customizable Task Management
It also allows you to write helpful comments and anecdotes
10. Codacy
Codacy tool automatically identifies issues through static code analysis. So that it is very easy to get a quick notification on security issues, code duplication, and code complexity in every pull and commit request.
Features:
Firstly, this awesome visual studio code review tools is one of the best static code analysis tools that helps you to identify new issues early in the process and prevent your product from being affected
Secondly, get visibility into the quality of your code
Thirdly, seamlessly integrated into your workflow
Finally, the self-hosted solution, packed with first class security on your servers
To Sum Up
The code review process plays a key role when it comes to boosting the efficiency of your organization. Specifically, taking advantage of the right visual studio code review tools is what helps you to remove redundancy in your development cycle.
Above all, ArrowHiTech hopes this blog will bring you as much helpful information as you want. Furthermore, if you have any question or face any difficulties in choosing the right code review tool, let's CONTACT US to be specific.