Free shipping is not something new in the past few years. In contrast, now this method has become so familiar that it has become a competitive necessity for some online retailers. While there are certain costs associated with the method, there are also some reasons to feel good about offering it. In other words, shipping costs are a key factor, however, when your customer is deciding whether to buy your product.
But with scale and growing customer expectations, free shipping has become both common and beneficial to some sellers. Because it's a small to medium-size business, this strategy should be in your marketing toolbox. If you don't include your freeship program in your strategy, the price to pay will be much higher. So now, let's see the key benefits of this method and how to set up it for your Woocommerce store.
But first, let's go through some definitions.
What is the term "Free Shipping"?
Even though free shipping is so widespread, it's worth taking a look at the actual practice of this method. According to a recent study, it is widely believed that the definition is clear and straightforward. It is: Free shipping is a marketing technique that removes the stated cost of shipping charges for qualifying purchases. However, there are so many variations of the illustration, and they are all correct. Yet they are more complicated.
The key benefits of Free Shipping
Every purchaser visiting any e-commerce site is at a certain stage in the buying cycle. Understanding the buying cycle will give you a deeper insight into how a user perceives "free shipping" and whether or not it translates into a value add. So now, here are some key benefits of this strategy for every eCommerce website ever.
#1. Sales and revenue-boosting using free shipping
Free shipping is popular with your shoppers. This is so obvious, in fact, that you are unlikely to find any statistical data or survey results to support the claim directly. There is an important note here: Some shoppers will, in fact, pay for faster shipping when the situation demands it — perhaps a last-minute gift. There have been several, albeit anecdotal, reports of the method' offers increasing sales conversions and revenue.
#2. Improve the competitivity
Offering free delivery can accordingly put your store in the 'free shipping club' in the customer's mind, that 'club' members possibly are E-commerce giants such as Amazon, Walmart, Wayfair, or many other major sellers. If the shopper has information about the module or has been once benefited from that program, your store will spring to their mind first, and give your site a chance instead of considering other major players.
#3. Boosts average order value by free shipping
A portion of the promised, free-shipping-induced boost in ecommerce revenue will come in the form of increased average order value. When this method offers to include a minimum purchase threshold – like $25, $50, or $75 — some shoppers will add items to their carts. In fact, a June 2015 study said that 52 percent of American shoppers have added items to their ecommerce shopping cart to qualify for free shipping.
#4. Eliminate shopping cart abandonment

Forward the survey which has been mentioned above, around 30% of online shopping carts are abandoned. This is because of an unexpected delivery charge. Even if some buyers do not pay much attention to shipping costs, they can be easily stimulated to expand their shopping carts, after adding more items. This will immediately raise the willingness to buy, create a higher possibility to purchase, compared to normal checkout.
#5. Boost customer satisfaction and loyalty through a free shipping 
73% of online shoppers expect affordable, fast delivery. When you meet this expectation, they'll come back for more – and tell their friends. You can also include this module's offers as part of a loyalty program. This is exactly how Amazon Prime – for example – has come to have over 100 million Prime members – and redefine ecommerce shipping standards. As a result of the strategy, you should build for yourself a targeted group of audience, and deploy it.
How to set free shipping up for your Woocommerce store
To offer this strategic method, it must be added to a Shipping Zone and you can add it to as many Shipping Zones as you like. Here's how:
1/ Go to: WooCommerce > Settings > Shipping.
2/ Select a Shipping Zone, Click Edit.

3/ Click Add Shipping Method and a modal will display. Select Free Shipping from the dropdown and Add shipping method.
4/ Select Free Shipping in the row you wish to define and select Edit. This takes you to a different screen to configure the method for that specific shipping zone.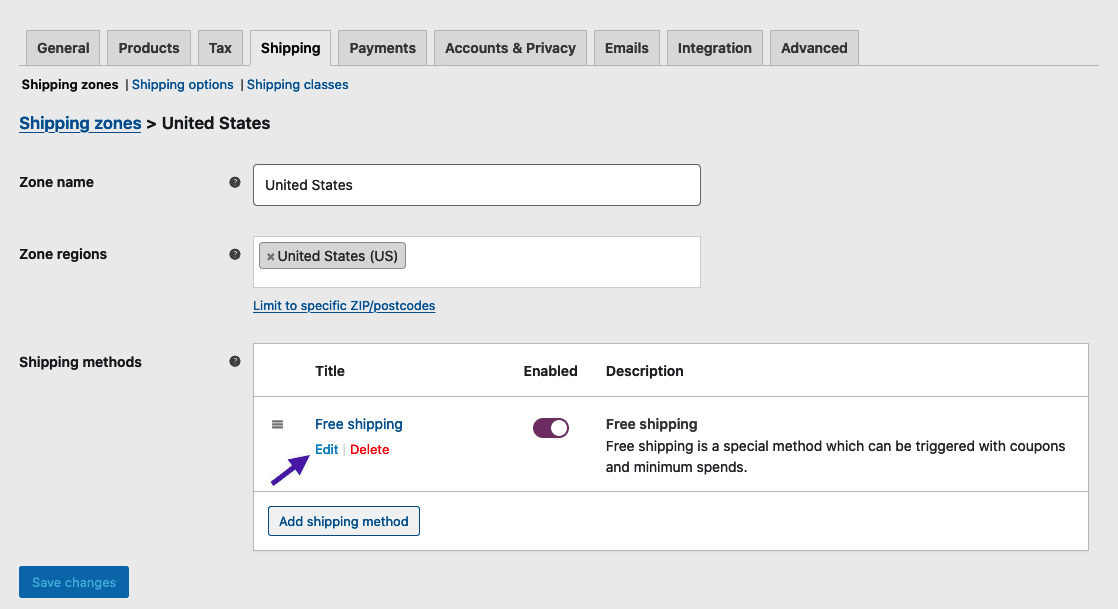 5/ Enter a Title that displays to customers in checkout.
6/ Open the dropdown next to Free Shipping Requires…
N/A – Not available, this module is an option for all customers
A valid coupon – A coupon created that enables free for ship
A minimum order amount – this method is only available if a minimum amount is spent. Set this amount in the Minimum Order Amount field which will also appear if you choose this option.
A minimum order amount OR a coupon – The method is available if a minimum amount is spent or the customer has a coupon that offers ship for free
A minimum order amount AND a coupon – This module offered only if a minimum amount is spent and the customer has a coupon that offers shipping sequence for free.
7/ If you have select any of the options that include a minimum amount, enter a Minimum Order Amount.
8/ Finally, if you've selected any of the options that include a minimum amount, you can choose to apply this amount rule before or after coupon discounts have been applied. 
9/ Save your changes.

Final words
That should be it! Here are some key benefits of free shipping and the steps on how to set it up for your own Woocommerce website. While on the face of it, this module seems simple – ship for free = more sales. In fact, it is part of a move to a more complex, personalized, loyalty driven play for retailers. So, by reading this article, you will have the most easy-to-understandings about this shipping method.
We – ArrowHiTech offers tons of services for eCommerce that you guys can check them out. Here are some examples: eCommerce website design & development, eCommerce design customization, eCommerce store development, eCommerce shopping cart design & development, Custom shopping cart development, etc. You can check us out at Woocommerce development services.