In recent years, HTML5 has become a programming markup language that is being specifically used for managing, structuring, and publishing content on web apps and desktop browsers. Moreover, this language is used for creating the same app on various devices, platforms, and operating systems. As the mobile app world is rapidly booming, building apps for various platforms and browsers can turn out to be a formidable task.

This approach allows you to focus on things that really matter. This may include creating a perfect user experience and developing the right functionality. The best part is that because your code uses advantages of HTML5, your app works on new devices as and when they are in the market. So now, let's discuss theadvantages of HTML5, and how to level those up for mobile application development.
But first, let's talk further about definitions.
What is HTML5?
HTML5 is the latest version of Hypertext Markup Language, the code that describes web pages. It's actually three kinds of code: HTML, which provides the structure; Cascading Style Sheets (CSS), which takes care of presentation; and JavaScript, which makes things happen. It does everything from animation to apps, music to movies, and can also be used to build incredibly complicated applications that run in your browser.
The rise of HTML5 development
HTML5 offers a wide range of new features such as advanced streaming video and audio features as well as integration. This allows developing applications that can easily adapt to different resolutions, device screen sizes, aspect ratios, and guidelines. It's also a cross-platform language, which means it doesn't care whether you're using.

Several advanced and robust features such as camera, GPS, and accelerometer in modern devices can be used with this language. What's more, this programming language can be used to write web applications that still work when you're not connected to the net. This can also tell websites where you are physically located, handle high definition videos, and certainly, deliver extraordinary graphics.
Some advantages of HTML5 (and how to leverage its advantages)
Advantages of HTML5: Easy learning curve

The learning curve is also not steep and most developers have knowledge of HTML. So, it is easy to start an application based on the client's requirements. Moreover, when a native app involves more resources to build and maintain, HTML5 mobile app can be developed faster and it is more convenient to implement. HTML is certainly a good choice for all developers who have time constraints and want the app to be implemented across multiple platforms and devices.
Advantages of HTML5: Have a faster market time
Today every organization is following the "write-once-run-anywhere" methodology. And, this saves time and effort, both. Efforts both time and resources in getting to market, this is because the app develops works across different browsers across all devices. All in all, mobile applications developed using HTML5 will quickly perform the required market tasks with added features like adaptive layouts, seamless navigation, accessible backend for the database.
Advantages of HTML5: Instant updates and employment using HTML5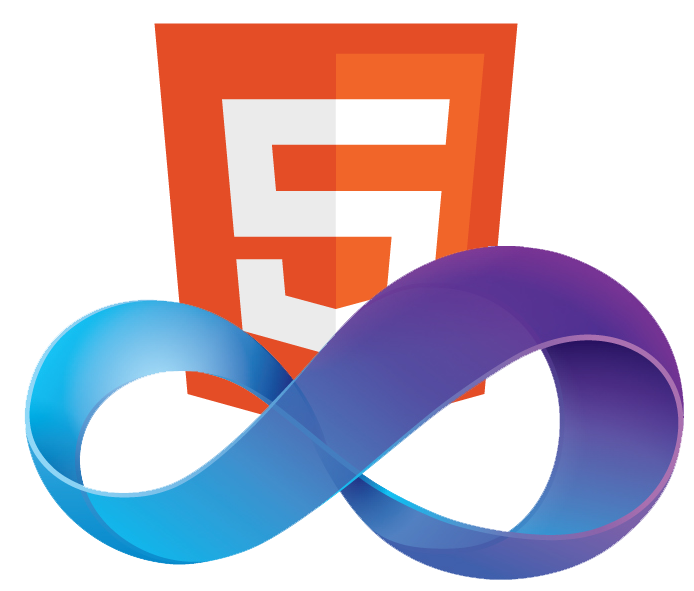 The language requires being updated for every mobile platform separately as compared to native or hybrid apps that demand to be updated for different operating systems and devices. However, mobile apps using this language can be easily created and released on the web. Also, they are not dependent on any app store platform in order to host the app. It does not require any approval and this makes it easy to deploy the app in the app store.
Advantages of HTML5: Cost-effective
While thinking from the perspective of a mobile app developing company, HTML5 mobile apps are cost-effective and with simple codes for native & cross-platform mobile app developers. To be more specific, this language allows developers to have one single line of code. Still, they can create an app that runs consistently across all platforms and devices. This is true for enterprises that have budget constraints and still want to reach users through various platforms.

Advantages of HTML5: Have less maintenance of apps using HTML5
Being an open-source language, HTML5 is becoming popular among developers. Today most of the developers are already well versed with this kind of programming language and know practically how to use it. By leveraging HTML language development, apps can be easily updated without having the need to re-submit an app to an app store. In short, this language creates a standard flow for accessing a feature or a document in a mobile app effortlessly
Advantages of HTML5: Offline browsing
This programming language for mobile app development is the best option for single base codes and it also helps to gain better visibility. This is because it offers offline web browsing for users. To give it the finest explanation, it supports local storage of web application code and content through the offline application cache, thus providing an offline web experience for every reader or customer.
Final words
That should conclude the advantages of HTML5 for mobile app development. And also, how to leverage its advantages to the next level. Though this programming language is not a be-all-end-all situation, it's an effective way to deliver such a meaningful experience to users across different devices and platforms. Or in other words, with its best-in-class design features, companies are providing tons of benefits for the users. In case, you still have any questions about advantages of HTML5, so let's CONTACT US