If you're a Microsoft Dynamics 365 user, integration with Magento can offer a lot of benefits. Therefore, at a high level, it gives you and your customers access to more timely and accurate information. As a result, Magento 2 websites can easily integrate this powerful suite of ERP tools. And, it comes loaded with a whole array of features and capabilities. Then, every merchant will love to utilize it as a result.
Having integrated Microsoft Dynamics 365, when used correctly, can ensure a huge boost in return on investment (ROI). Of course, no systems integration project is without risk. So, you should follow the best practices in order to virtually eliminate these risks. And this article will help you with that. Now, we would like to give you some of the key benefits of Microsoft Dynamic 365, and how to integrate it into your Magento 2 store.
What is Microsoft Dynamics 365?
Dynamics 365 is a new, cloud-based enterprise software platform. In addition, the bundling products alongside reporting functions in one streamlined, unified package. Besides, ERP and CRM capabilities are broken down into several apps. So, Dynamics 365 helps users start with what they need and grow at their own pace. And, they can also add new apps and functionalities as and when they need them.
Some key benefits of Microsoft Dynamics 365
True digital transformation can only be achieved with an ecosystem of interconnected systems. These seamlessly exchange information with each other. Here's how Magento Dynamics 365 connect can enable you to revolutionize the way you conduct and grow your business. Or, to be more understandable, some key benefits of Microsoft Dynamic 365.
#1. Customer engagement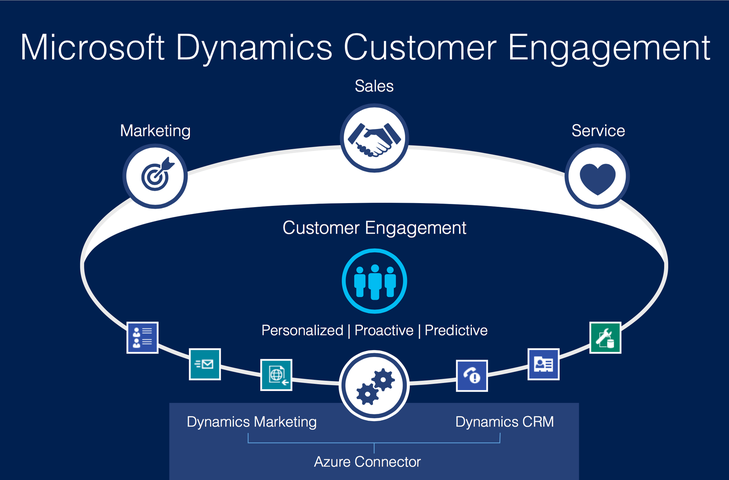 Dynamics 365 offers a process-driven user interface to help manage cases on an individual basis. Moreover, centralized data allow representatives to react based on trends generated from customer usage data. This gives them the ability to engage socially, provide individual solutions, and bring in that personalized human connection. In other words, this integration gives you a framework that you can drive the omnichannel experience.
#2. Shorten the sales cycle
For marketing professionals in the field, being given access to well-analyzed customer data is like a gold mine to them. To be specific, this enables them to provide customized and intuitive services. Furthermore, with Microsoft Dynamics 365 easily accessible on personal technology, sales teams have a wealth of power on their hands. In addition, a study was done as far back as 2014 showed that 65% of sales reps who have used Mobile CRM achieved their sales quotas.
#3. Operations optimization using Microsoft Dynamics 365
Your operation may require lots of sequences and of course, errors and low-productivity are inevitable. So, by integrating Dynamics 365, you won't have to worry about that anymore. This integration will help you streamline business processes and eliminate manual data entry. As a result, reducing errors, saving costs, improving operational efficiency. And, this increases employee productivity will appear in your very eyes.
#4. Familiarity and easy deployment
For any organization, working with the familiar and growing with it is an added benefit. With most organizations already using Microsoft Office, Dynamics 365 makes for easy integration. This also reduces the time it takes for employees to familiarize themselves and learn new applications. Also, the tools it incorporates are intuitive and are attuned to a business's varying needs. And, a major plus of the product is that it is affordable for most businesses.
#5. Improve your products and business-booster
Microsoft Dynamics 365, yet is just a newfound efficiency that has been discovered recently. However, because of this integration, the module will help you focus on what really matters to their business. They are your products and customers. As a result, you can now focus more time and money on innovating your products and improving customer experience. And, your sales and conversions of your eCommerce business will thank you.
Related post: Magento integration problems: What are they and how to avoid it?
How to integrate Microsoft Dynamics 365 into your Magento 2 store?
Integrating your ERP and Commerce platforms is critical to growing your business. So, a successful integration may help you. Once you have decided to integrate, it's time to develop a plan that will work for your business. Here are the steps on how to integrate Microsoft Dynamics 365 into your Magento 2 website.
Step 1: Assess your data
For most eCommerce retail businesses, the types of data you need to consider syncing are varying. To be specific, four types between your Microsoft Dynamics 365 and Magento 2 platform can be broken down. They are inventory, product descriptions and specs, pricing, and order tracking. For each key piece of data, you'll need to determine tons of things. This may include where it should reside (e.g., the system of record), how frequent are the updates, and how the management can be done.
Step 2: You need to document your workflow using Microsoft Dynamics 365
Your workflows will clarify where data needs to go and when. Every merchant's workflows are different. B2B companies and drop shippers have workflows that are more complex than the "typical" retailer. So, setting up your perfect, seamless workflow may result in your business will be much more flourished than ever. And Microsoft Dynamics ERP and your chosen platform – Magento 2 will help you with that.
Step 3: Involve the right stakeholders by Microsoft Dynamics 365
Working with the right stakeholders will ensure your integration supports your actual business processes. Moreover, it can deliver a better experience for everyone. This could be done by using your Microsoft Dynamics ERP and Magento 2 eCommerce platforms. These stakeholders you may encounter will include in your target. They are CIO, CFO, or other finance people, marketing, and sales – and potentially your customers and suppliers, too.
Step 4: Use proven adapters
You can boost your integration if using pre-built adapters rather than building them from scratch. Some out-there adapters offer packaged, Microsoft-certified adapters for Magento. As a result, they can cover inventory, product descriptions and specs, pricing, and order tracking. We can also adjust the adapters to fit specific workflows and business needs. Moreover, they may ensure your Microsoft Dynamics 365 is perfectly integrated into your Magento 2 website.
Final words
That should be it! Here are some of the major benefits of Microsoft Dynamics 365. And also, some main steps to integrate it into your Magento 2 e-store. Microsoft Dynamics and Magento Commerce will support your long-term business goals. As a result, they can help you develop integration requirements that deliver measurable growth and high ROI.
If you are planning to enter the ecommerce market and invest in Magento 2 development to build new online store from the scratch, Arrowhitech is a trustful Magento partner. Check out our Magento development service. Moreover, if you want to browse more on our extensions, you should check out our products' website here: MageSolution.