It's evident that companies are becoming aware of the fact that they need to embrace a mobile strategy. Not only has the number of mobile-only internet users overtaken desktop-only, but app usage has also surpassed desktop usage. It no longer is a question of whether your company needs a mobile development strategy – because you undoubtedly do. However, one question arises: a mobile app or a responsive mobile website – which is better?
At face value, mobile apps vs mobile websites can look very similar; however, they are two very different mobile mediums. When it comes to these kinds of mobile mediums, it can be difficult to determine where to focus your efforts. So now, we would like to introduce to you guys the differences between a mobile app and a mobile website, so that you can choose better for your company to develop a fruitful business.
Let's get into it!
#1. Development (design) complexity
Both options can be difficult to develop, it all depends on the desired result, the level of quality of the product, and the required functions. However, in terms of the complexity in development and design, it's obvious that mobile website development required fewer resources, which makes the development much faster and easier. However, since the features are limited, the design is not so mobile-friendly.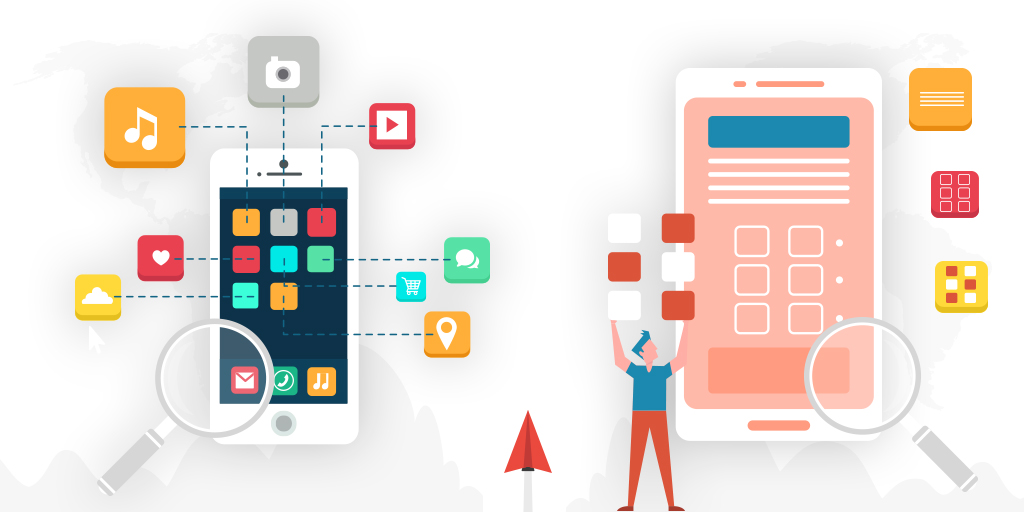 On the other hand, a mobile app may require several versions and updates for tailoring your experiences. Therefore, the process is much more tangled than ever, not to mention the budget of every patch ever. However, the development cost, time, and effort will not be futile. The mobile application is best known for the UI/UX development, or to give it another word, a much more mobile-friendly environment for your business.
#2. Maintenance and support of the mobile apps vs mobile websites
The case on maintenance and support is commonplace in every project when it comes to mobile development. Since the developers of any kind of mobile website don't have to build such intensive codes and ultra-tailored for mobile, they will have more time to prepare for the customer's asking for maintenance and support. Time and effort will be saved from a lot of updates and patches.

However, the thing is not the same, as regards the development of every mobile app ever. Due to the intensive coding and probably, the maximum security of the store for a mobile app, the process may not always be so smooth. The supports and application update require more time and testing resources as well. As a result, it can't be delivered so fast like on a mobile website. Moreover, these patches will help the customers a lot, since it's tailor based on your experience.
#3. Functionality aspects of the mobile apps vs mobile websites
When it comes to the functions of each platform, we need to take a look at the detail. Clearly, mobile applications win this round, but let's talk about the things that make it become the winner. The mobile website doesn't have any open-source ecosystem rules. This makes it so uncomfortable for both the developers and the customers, in different concepts. The features are so limited, which stated more clearly to this fact.
From another point of view, the mobile app, in general, can aid your business with a lot of functions and features, thanks to its intensive development. Mobile apps can operate the system's built-in features and hardware, which make them much more methodical. All in all, If you need to perform any action with the user's device hardware (GPS, NFC, camera, etc), the clear choice is to develop a native application.
#4. Purpose of the two platforms
The mobile version of your website can be accessed for existing and future users because it requires no installation. All you may need is a great internet connection, as well as the appropriate codes for your mobile website. These things will ensure your mobile version of your business and perform the best, without any kind of updates, patches, and installations.
However, things are not the same in terms of the mobile app. Due to the fact that these apps require to be right on the main screen to perform, the access of customers and future users who don't want to weigh up their mobile devices will be limited to none. On the other hand, users find apps safer that websites, due to app store approval rules. These rules are strictly chosen and filtered, just for the best quality in security.

#5. Branding opportunities

Nowadays, mobile-first sites are prominent in the search engine result pages, yet exceed the websites that are not for mobile. Firms that have mobile-friendly websites are likely to rank better. As a result, larger brand visibility and higher website traffic are certainly on point. These might be a less expensive option, but then they are also limited when it comes to engagement and personalization.

The app aspect comes with tons of branding opportunities for users, as they are a separate entity from a company's website. This allows businesses to experiment with new branding tactics and styles. Keep note of the fact that the mobile app can bring an entirely different experience to the user. Hence, if your website fails at offering enough value for your customers, an app can be quite beneficial as it offers the users another channel to engage.
Final words

That may conclude all the most prominent differences between the mobile apps vs mobile websites. To sum up, we agree that the issue is rather complex and ambiguous, since the final choice may depend on many factors. Also, there is a huge number of followers of both mobile applications and mobile websites. So, choosing them will depend a lot on your projects.
You can check us out now: mobile apps development and web apps development services.