If you're new into React development, chances are you've tried the official React DevTools. By installing React Devtools, you'll get two main features: a view of the component tree and the current state and props of each component you select. Also, this browser extension is available for Chrome, Firefox, and application for Safari and React Native debugging.

The React DevTools is under active development, and new features are added all of the time. As a result, you might not (or might) have known about the awesome features that this tool can bring for your store. So, in order to untie the knot, we – ArrowHiTech would like to introduce to you guys some of the amazing things that react devtools can afford for your site, as well as the top must-have ones to create the best apps for you.
But first, let's go to the definitions.
What is React Devtools?
React devtools is a browser extension for Chrome and Firefox that provides an extra set of React-specific inspection widgets to assist you with development. To install React Devtools, visit the extension page for your browser of choice – Chrome or Firefox – and find the install button. Then after the installation, the extension requires no further setup. All in all, using this tool not only enhances React's versatility but also makes it easier to use for developers.
Read more about : React native vector icons, React native switch, React native device info
Some amazing things that React Devtools can possibly bring
#1. Debug performance with the profiler
In September of 2018, the React team introduced an incredibly powerful feature for debugging performance-related issues: the Profiler. Just like the regular JavaScript profiler found in your dev tools of choice, you'll have to "record" a set of interactions. Once you've done that, you'll see a visualization of each re-render your application goes through, with accurate timing information and color-coded flame graphs.
#2. React Devtools is themable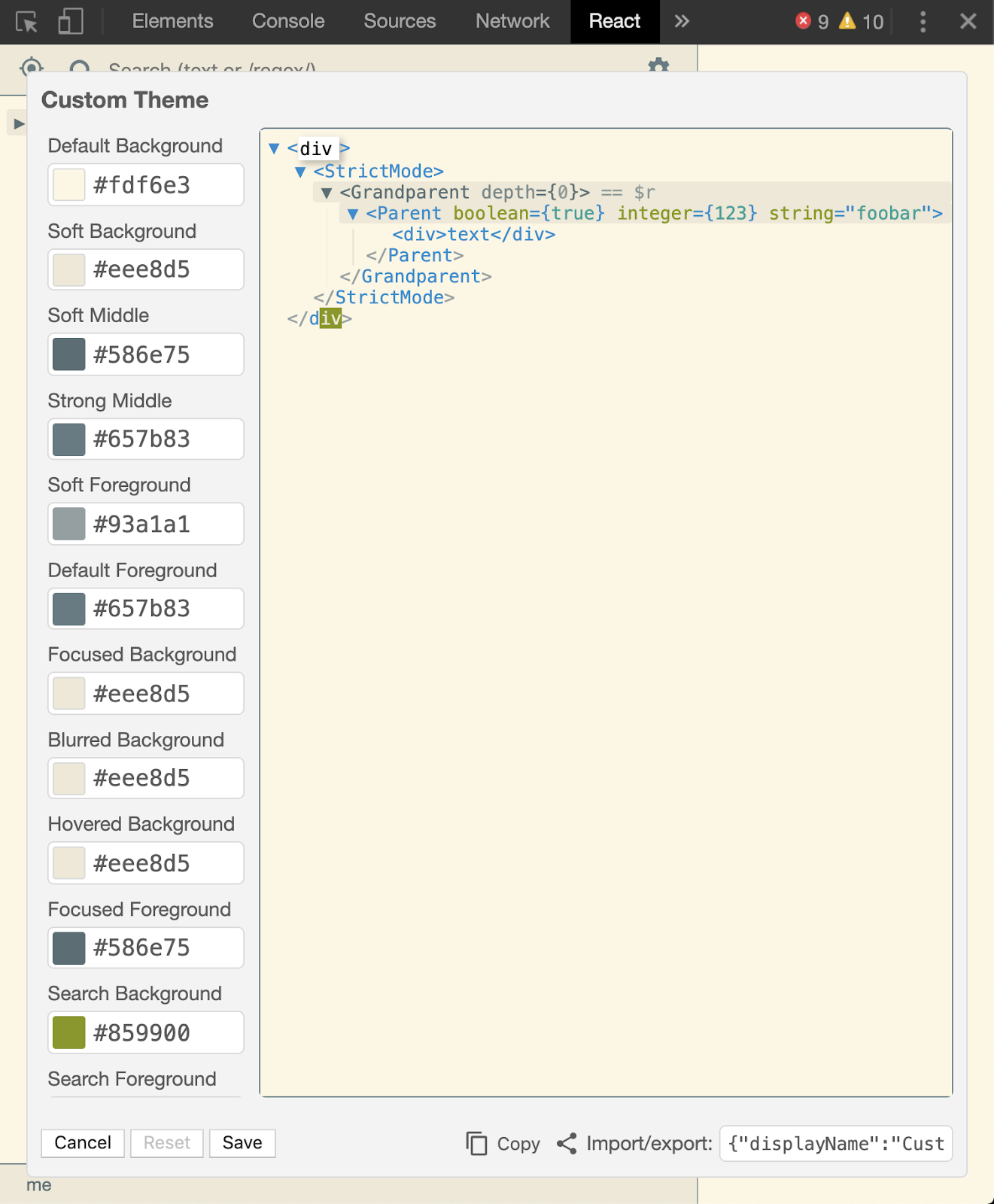 You heard us right. This module comes with 18 different themes that are pre-installed into, and they are all customizable. Also, it includes some of the most popular themes for your favorite editors. If that's not enough, there's even a UI to implement your very own theme right in the extension. To start playing with themes, click the cog icon on the right side of the main panel. You'll see a settings panel that lets you pick your pre-installed theme of choice.
#3. Ability to interact in the console
Although you can find and fix most issues directly in the React DevTools, there are some debugging that just works better with a good old console.log. This tool actually gives you the option of interacting with the component instances via the console itself. If you're interested in a particular function, React DevTools also provide you with a nice little convenience feature. As a result, you can call it whenever you want, with different arguments and contexts.
#4. View source effortlessly and professionally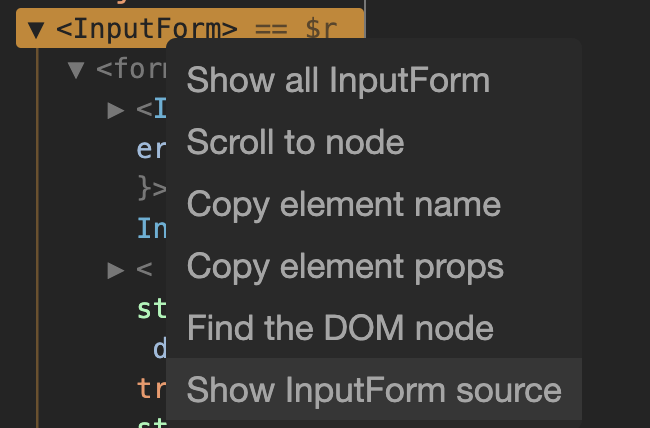 Babel provides a plugin that adds a __source prop to all JSX elements, that lets the React DevTools link directly to the source code of the component you're inspecting. It slows down your application a bit, but it works great in development mode. This lets you jump into the browser's source view, where you can inspect, set breakpoints, and alter the code altogether. If you use the popular bootstrap-tool Create React App, you'll find that this works out of the box.
#5. Interaction tracking when using secret React APIs
In some situations, understanding why a particular commit or re-render took longer can be a bit complicated. That's why the React DevTools are introducing support for so-called interaction tracking. This is a programmatic API that lets you place labels on different events in your app, and trace their performance. Note that these features are still at a very early stage, and still under active development. So use it with care.
Top must-have React Devtools in order to create the best apps
Our React web development team has its favorites too when it comes to React tools. And since we are a React.js development company that has extensively used the library since its launch, we've drawn upon our experience to put together this list of React Devtools that you can consider creating better React apps faster. Let's go!
#1. React Developers Tools – the most widely used React Devtools
It's an official Chrome extension for React from Facebook that lets you examine the list of components rendered on the page as well as the subcomponents they end up rendering. You can use the tool to select, inspect, and edit the states and props of each component and subcomponent. The profiler tab of this React Devtools is also useful to check the efficacy of your changes as it measures app performance.
#2. Create React App
Developed by Facebook, Create React App is a tool that you can use to quicken the process of setting up a React IDE. This react devtools does all the essential bits for you, including providing a consistent app structure, enabling developers with a front-end build pipeline, and adding the right support modules. As a result, your React.js developer can get on with the task sooner and save you time.
#3. Storybook
This Storybook is an online app that lets you create UI components, which are central to web development using React.js. Where this react devtools shines though is that it makes the component creation aspect of React independent and interactive. It does this by letting you create components outside of your app and test them in a kind of sandbox. All in all, this module will help you guys a lot in creating React apps.
#4. Bit
This is a CLI tool and online platform that enables you to publish React components as well as share them with others. You can also use Bit to search for React components created by other React developers. This is easy as they are rendered for you, which saves you the hassle of reading their code to understand what they do. Moreover, you can edit the code that is used to generate the preview of each component.
#5. React Bootstrap
Bootstrap is a powerful toolkit that comprises HTML, CSS, and JavaScript tools to help you create webpages and applications – even if you lack expertise or experience with any of those technologies. With this react devtools, the JavaScript parts of Bootstrap have been rewritten to make them compatible with React.js development. So, if you are looking for readily accessible React components, go with React Bootstrap is the best choice.
Final words
That should be it! Here are some of the most amazing things that React Devtools can possibly bring for your eCommerce apps, as well as the top must-have ones for your need. All in all, while it's unlikely you'll need to use all of them for your React web development project, you can derive the benefits of using more than one tool together according to your demand. As a result, your application will be much more developed.
With over 12 years of experience, the experts of ArrowHiTech are always ready to solve all problems with your business. So what's the reason for you to wait? Let's fill in the CONTACT FORM if you have any questions with you business. Support team 24/7 of ArrowHiTech will reply by email as soon as possible. One more thing that we also offer the best mobile app development services for your eCommerce business. If you don't want to miss these great services, you can visit us at ArrowHiTech Website to explore more interesting things.