In terms of mobile app development, one of the most important steps to mention is choosing the right navigation library for the project. Navigation serves as the backbone of an app and has a big impact on user experience. There are a number of navigation libraries out there for us to choose from. React Navigation is one of the most widely used libraries out there on the scene. It is also one of the solutions recommended by the React Native team. So now, we would like to compare React navigation vs react native navigation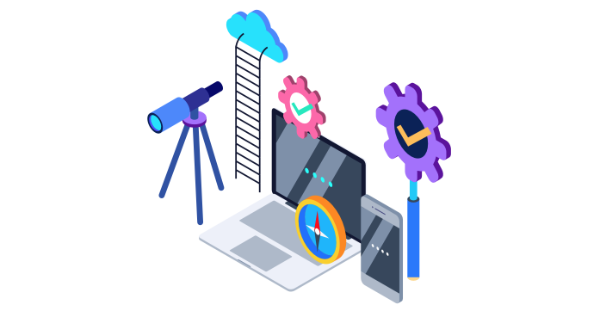 This may include weighing the essential aspects that are critical to selecting a navigation library for your app. We will analyze scenarios in which RN thrives, along with a few where it doesn't. Also, we will try to analyze how much complexity you'd have to carry on RNN, in order to achieve the features you want. Let's go!
#1. Performance of the two
Performance is the first parameter while choosing a navigation library for your application. The number of frames displayed every second decides the smoothness of the interface. During recent versions, all animations are done using native drivers in built-in navigators. In the React Native applications, the vast majority of the business logic resides on the JS thread. React Navigation works altogether on a similar JS thread as the rest of your application.
Nearby this, the RN team is working on using react-native-reanimated to make gesture release more performant. For handling gestures, react-native-gesture-handler can be used in recent versions. When compare React navigation vs react native navigation, RNN by default treats all your screens as individual React applications. This accompanies some complexity, especially when integrating with libraries like Redux that require you to wrap your application.
#2. Using multiple routers – React navigation vs react native navigation comparison
In applications that require a login, developers generally prefer various navigators to deal with non-login and login journeys independently. With React Navigation, courtesy of its being a JS-based navigator and the great API it provides. RNN allows you to set the root of navigation from any point in your application. It can mimic the native API where you can begin another activity or fragment and clear the existing stack.
#3. Integration with third-party libraries and existing apps
Being a JS-based, navigator permits React Navigation to incorporate easily with any of the third-party libraries. While RNN may suffer from libraries that are firmly coupled with native platforms or should be wrapped over the entire application. For example, RNN comes with separate guidelines for integrating packages like React Native Facebook SDK and an out-of-the-box API to integrate Redux in your application.

Also, when it comes to the comparison of React navigation vs react native navigation, React Native can incorporate with any of your current native applications. In such a case, any navigator based on JS works really well when compared with existing native solutions. This gives React Navigation the edge over RNN, particularly on the off chance that you are hoping to control a few modules of your current application with React Native, much the same as Facebook and numerous other brownfield applications do.
#4. Boot-up efforts while using React Navigation and React Native Navigation
If you and other developers in your team don't have enough experience with native application development, you may need a solution that doesn't have a steep integration guide. React Navigation has a slight edge here when compared with React Native Navigation with regards to the integration process. This is because the effort to fully understand this module is so much better.
#5. Deep linking while using react navigation vs react native navigation
Suppose your application shows blogs, and you need users to directly arrive on a post screen when they enter your application. Neither React Navigation nor RNN as of now gives a simple method to do this. Both work best where your routes can be characterized statically. In spite of the fact that there are workarounds you can execute to accomplish this feature, again, it comes at the cost of adding complexity to your codebase.
#6. The development team of React navigation and react native navigation
The team behind React Navigation comprises people who are active contributors in the React Native core and expo. Besides this, they are developing a number of React Native apps that give them a wider perspective on issues that may arise with yours in the future.
A large number of apps built with React Native, including CNN, Bloomberg, and Urban Dictionary, are using this today. RNN is backed by Wix. They're using it for their own app in production and are really focused on its continuous progress and development.
Final words
That should be it! Here are some of the aspects that compare React navigation vs react native navigation. Choosing the navigation library is an important step in your application's development. Any choice made without due thought and care may hurt your application's scalability. It can make different issues when it becomes bigger. So, all in all, choose wisely.
>>> Read more
React native webview: The comprehensive guide you need to know
Cordova vs react native: The comparison of two cross platform frameworks