The app start-up sequence is all about simple application ideas and solutions. The concept of the app is the foremost important part of creating a successful app just after finding the mobile app development company with the best mobile app developers for hire on the team. Also, the fact that whether it will hit the market are some of the questions that come to every entrepreneur's mind and the push-over to their expectation.
However, choosing the concepts of your apps is not as easy as it seems. In contrast, it is the most crucial and difficult part of the process that you have to overcome. If you can't think of the best ideas for your app, then this article is just for you! So now, we – ArrowHiTech would like to show you guys the 50 best simple application ideas that startups – like you guys – can use to build a novel business.
#1. Augmented reality for structural app
One of the concerns while buying furniture or any interior item is whether the product will suit your room and where it would look the best. This is when augmented reality takes place. By using 3D models of various items and furniture in the virtual space on your phone and seeing how it would look, you can make an intuitive experience when customers using your site.
#2. Restaurant reservation app with AI simple application ideas
This is such one of the best simple application ideas that offer a graphical layout of pubs and restaurants in the nearby area and the user will be able to book a specific table for a particular time in advance. With the help of AI, this app can remember the user's preferences and suggest according to the user's choice.
#3. Local food delivery simple application ideas
A product worth 5$ with 2$ delivery charges is a bad deal. This app will be used to find a cheap and best food delivery service. The user will fill in the required information, like delivery location, choice of food and contact details, etc, and then see the delivery service is available for the item at the most reasonable price.
#4. Health-related app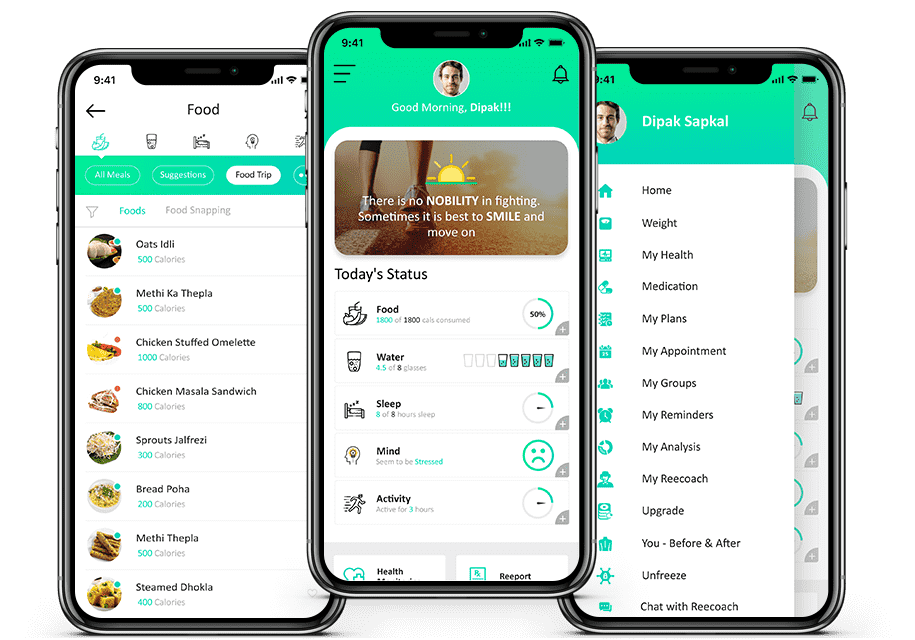 Everyone goes to their doctor for a regular health check-up, but they have to remember and make appointments for themselves in order to do that. With this integrated app, you can be able to help your customer on a simple regular health check-up without making appointments or reservations. This will eventually save a lot of time in the hospital.
#5. Scan and convert to pdf simple application ideas
Rather than going to a shop to get your documents to scan and then converting them into pdf. A scan and save to pdf app can help you keep important records such as receipts, documents, report cards, notes, whiteboards, etc., on your mobile securely. With some simple tasks, you can convert your file into pdf anytime, anywhere.
#6. Language learning app
This is probably one of the most simple application ideas that any startup should bear in their first thought. The app can have different levels of difficulty with the first level being alphabets and basic letters to the advanced level containing full-fledged conversations. The app can enable voice so the learners know how words are pronounced.
#7. Tours & travels with AR/VR
It is not easy to find visiting places on foreign land. Yet, with the development of the internet, the AR/VR tourism featured in your site can be a great experience for customers when they visit your site. To be exact, it'll pinpoint all the famous tourist spots, restaurants, and popular things to try in that location so that the users can enjoy to their fullest.
#8. Earning by Rating in blockchain simple application ideas
Earning by Rating will be an online blockchain app that will invite users to review the newly launched app, in return for certain money or gift vouchers. By having this on your site, the customers will remember and will put your site on the map. To get this, you may have to refer to some of the best blockchain development companies.
#9. Voice translation app
One of the primary concerns of traveling abroad is not knowing the language of the country and the struggle of trying to communicate with the natives. So, the simple application ideas of translating your voice will be a revolutionary way to communicate for travelers. The words can be spoken to the phone which will be translated to their desired language.
Also read Technology trends: Latest trends that everyone must be ready now!
#10. Bike servicing app
A bike servicing platform or application is a kind of the most simple application ideas for your site. This will use technology for the convenience of two-wheeler owners by providing them a transparent connection with high-quality vehicle maintenance providers. The platform can provide pick-up and drop sequences, order management systems, etc.
#11. Police scanner simple application ideas
In this app, users will be able to see the wanted criminals in their area and whenever they come close to one. In fact, it will hold a database of criminal activities updated by users & professionals. Moreover, they'll be able to quickly press an alert button which would immediately inform the police and show them the location through GPS.
#12. Fitness simple application ideas
A healthy lifestyle web application targeting health-conscious people to track their habits assisted by specialists. The application would be equipped with several charts that help the user manage their overall health. The user is also equipped with individual meal charts, lifestyle plans, nutrition plans as per their condition.
#13. Cloud presentation app
The presentation is always the hard phase in preparation. However, by using this kind of app, the traditional methods of making presentations are eliminated. Instead, this will use a cloud API to collaborate all the team members to make the presentation online so that all of them can give their ideas and feedback for its quality.
#14. Tip calculator app
The tip calculator app is one of the simple application ideas that have some features that allow fast bill entry for those dining out with friends or family and have to split the bill. To be more exact, you can calculate the exact percentage of the tipping amount from your total bill on the spot and get good service each time you want service from the institution.
#15. Contact tracing simple application ideas
Due to the COVID-19 pandemic, this solution has come to existence. A real-time contact tracing app will allow users to view COVID affected areas and global statistics. Also, these apps are developed to help the government track the contact chain of a user diagnosed with Coronavirus, and determine the source and possible spread of infection.
#16. Food recommendation app
A food recommendation/review app shows suggestions from people who like to explore different restaurants. They can be trusted to put out reviews and recommendations of what people can try when they visit so and so eating place. This is all about customer experience, and this app will definitely become a connector between users and restaurant service.
#17. Car parking simple app ideas
Finding a car parking space during rush hours can be difficult. This is when the idea of a car parking app takes place. This kind of app will show all the nearby parking spots according to GPS and help the users to grab a parking spot quickly. So, it can be turned into great smartphone app ideas.
#18. Graphical restaurant table reservation app
So you may need some privacy when it comes to having a corner date or in need of the central table for a huge toast. Then, a restaurant table reservation app may be a great choice for your business. With this app, you can choose the desired seats or table and book them for a specific time.
#19. Chatbots
With the help of Machine Learning, you can build chatbots that are smart, efficient, and available 24/7 at a much lesser price than humans. You can hire chatbot developers to build it and become a chatbot hosting startup for other businesses. This is such one of the simple application ideas that you guys can use in the most efficient way.
#20. All-in-one social simple app ideas
Your customers' demand, for example, is to surf multiple social media accounts at a time. This can be done by going back and forth all the accounts, which may irritate your customers' experience a lot. So, a much more efficient app idea that comes to existence is to combine them together in a single and ultimate app.
#21. Karaoke app
The desire to raise our voice has been emerging in each person when using music apps. This is why the karaoke app – one of the best simple application ideas is born. With this kind of app, the user can sing and use filters to sound like their singing idols. Plus, amateur singers can also practice on the app.
#22. Selfie competition simple app ideas
We crave for taking a great selfie, and this fact is happening like, everywhere. So, a competition related to selfies will make much of a difference for users worldwide, as they will compete with each other, even with their friends in order to get new features for a better selfie. After all, this will revolutionize the selfie world.
#23. Supermarket checkout app
Obviously, nobody likes to wait in a long, tiring queue. Yet, this still happens in some huge retail stores. With some other markets bringing in the self-check-out retail stores, these types of apps will be increasingly used. These apps will let your customers scan the products on your mobile while shopping and make the payment accordingly.
#24. Disaster alert simple app ideas
When you visit a new, strange place and you never know when a storm or an earthquake coming to your hired apartment, this kind of app will help your customers a lot. So, by having this app on their phone, they can check whether the place has at least one natural disaster or not, and make a visiting decision according to that.
#25. Social networking app for item sale, buy and rent
This app will be like Facebook or Instagram, but with extended capabilities such as connecting with your existing friends to sell/buy or give stuff for rent online. This is one of the best simple application ideas that can allow you to make recommendations and search and buy products based upon your friend's suggestions.
#26. Invitation app
This is just a perfect idea for users when they want to throw an on-spot party or event. To be more exact, it will create invites on the Immediate Invites features and send it to all their friends. But the invited persons will get the invites as a normal text message, not on the app, which is quite intuitive and convenient.
#27. Virtual clothes shopping simple app ideas
By using this app, your users will be allowed to see if the clothes they want to buy fit them better and how they look in different styles. Moreover, this app can help the users save a lot of time instead of spending it on actually changing the clothes in the dressing room and waiting in the queue just to purchase some decent clothes.
#28. Goods-transporter/logistics app
A lot of people want to deliver goods to places immediately, but it is difficult to find the right services at the right time. While, on the other hand, there are vehicles returning empty after unloading their goods. In such cases, this app can provide information about the vehicles that are available to transport the goods.
#29. Your virtual cook simple app ideas
Just like other cooking apps, it will advise the recipe of cooking food, but not tell the users the right ingredients. Instead, it will first ask the users about the available ingredients and will come up with a dish that can be made with those ingredients on its own, so that the user won't have to rush for other additives.
#30. Sync camera app
Suppose your users ask the other person to take your picture for them. While the person is clicking, these users can't know how you are looking in the frame. So, by using the sync camera app, it will help you know how it's done by syncing both the cameras so you can know whether the pic is being correctly clicked or not.
#31. What's in your fridge simple app ideas
This app takes account of all the vegetables, spices, and other eating material in the pantry or refrigerator. And then, the app based on that to suggest what the users can make at home. It also gives them some instructions as to how to cook a specific recipe. This is just for customizing the users' own recipes thanks to the available ingredients.
#32. Song finder app
It's been observed many times that when we hear a particular tone and we like it, we wanna know the title of the song so that we can download it. This is when the Song finder app takes place. It will analyze the tone that the user is hearing and will automatically show the result with its download link.
#33. Toy-exchanging app
It is apparent that children quickly get fed up with their toys and move on to the next one. So, this is one of the simple application ideas that will be a good deal for parents. It is for the community of parents whose children outgrow their toys quickly. Instead of buying brand new toys every few months, parents can put their toys on the app and exchange them with other toys.
#34. Loaned money tracking app
Often when a group of friends plans an outing together, it is difficult to track who owes whom the money for group activities such as attending a concert, going to a restaurant, or for shopping. This app keeps track of how much money is spent on an activity by whom and how much other members owe them or vice-versa.
#35. Wishlist simple app ideas
This app will first ask the users about the wish or the target that they want to achieve. Then, it will show them some of the most famous and successful ones and how they can achieve their dream. It will also compare the present situation of the users and will guide them to the correct path to fulfill their wish.
#36. Re-cycle helper app
The trash can is full of recyclable garbage? Then this app may be of a great choice for you and your users! By using this app, they can be able to scan your trash bin and locate if the degradable and non-degradable waste has been properly placed in the bins accordingly. That way, they won't have to waste a lot of useful things in your bin.
#37. Consult a doctor simple app ideas
This app lets the users consult doctors that are on the app. They can ask questions and get responses from the experienced doctors, get the latest updates from the field of medical science, and even book an appointment with the doctor. This is quite convenient because your users don't have to take a lot of time and effort to meet the doctor in procedures.
#38. Thought detector app
Thought Detector will surely be fun and intuitive simple application ideas. Based on the status of a person on social media, this app will detect the thoughts of a person and let the user know what the person was feeling when he wrote his or her status. This is sometimes for sympathizing with others when the app detects their emotion.
#39. Launcher simple app ideas
There are many launchers in the market like Themer, Everything.me, etc. However, one should design such a launcher that combines all the major features of potential launchers. This app should be filled with intuitive features like voice commands, customized home screen, and app drawers that can enrich the user experience.
#40. Social networking app for single parents
This is currently taking the world by storm in 2020, if it is not one of the best simple application ideas. It comes under social networking. The concept is to match single parents with similar interests and kids in the same age group in order to share thoughts, parenting advice, tips, or even deeper mutual connection.
#41. Find your band member simple app ideas for musicians
This is the app that is like a job seeker for musicians. Members of the band who are looking in to fill in a position – be it singer, drummer, or the guitarist – they can find it here. Of course, musicians who want to join a band can search for different bands that are registered on the app and can choose the ones they want to join.
#42. Travel-planning app
This is one of the best simple application ideas that will plan the users' ultimate trip. All they have to do is fill in the information like your budget, the scenery you like, weather, activities, and other specifics that are the most appealing to do in their vacation. Then, the app will find the ultimate destination and the time of the year when the users can go.
#43. Flashback simple app ideas
One of the best simple application ideas can be something that can retrieve deleted things. Many times we need to undo the tasks that we executed unwillingly, this is both inconvenient and irritating at the same time. So, this app will allow the users to see what they did on their phones in the past and also able them to undo their tasks.
#44. Tenant finder/communications app
A tenant finder and communications app will facilitate the connection between tenants and landlords. Those putting on rent can find potential tenants and go through the various profile to find the one that suits them the best. In turn, tenants can put in official complaints regarding the property or maintenance requirements or even pay rent through the app.
#45. Home security app
This is one of the most secure and simple application ideas that let the users control all the security devices set up at your home like burglar alarm and cameras. They can also use this in your office space and access/check-up on the video footage from time to time whenever you wish. That way, They don't have to be at home all the time just for checking the property.
#46. House-keeper finding app
This app can allow users to find housekeepers. The selection can be based on the number of services they might need (like cooking, washing, dusting, dog-walking, etc). This intuitive app will also help house-keepers that are uneducated or ignorant of their job's market value to receive fair wages.
#47. AI calendar scheduler simple app ideas
The application can provide simple application ideas for the time and date depending on your calendar for the meeting you want to create. Also, the application will be able to analyze the semantics in the emails you have with your colleagues involved, formulate suggestions for the date and time of the meeting, and notify them that these are the suggestions.
#48. Apps that scan terms/conditions
Now many software, apps, and products require users to ready a long document detailing 'Terms and Conditions'. Many users simply skip this part and go-ahead to sign the agreement. Sometimes, there are unfair terms added which the user doesn't necessarily agree on. An app that can scan them which will alert and protect the user from violating the terms.
#49. School notices simple app ideas
Rather than communicating via email, schools can update parents on everything about their children. This includes important notices such as snow/rainy day holidays, reports cards, attendance as well as upcoming school events. Parents and teachers can even upload photos, videos, and other files that they may feel important for children's education.
#50. Disaster management app
Disasters can't be stopped, but we can prevent the damage caused by them. A disaster management app that can warn people of disasters in their areas (the type of disaster, magnitude) can help save a lot of lives. This is one of the simple application ideas that can educate people on how to react when faced with a disaster and urge them to help others.
Final words
That should be it! Here are the 50 best simple app ideas that you – as a startup – would like to install for a good business. All in all, these ideas are for the most prominent yet basic terms of Internet selling and usage, so choosing them may be quite easy for you guys. Eventually, you and your business will be much more flourished and streamlined.
We – ArrowHiTech is proud to be one of the most well-established outsourcing companies all around the world. We at ArrowHiTech provide various creative and innovative mobile app development services with the latest technological trends and help you take advantage of the rapid segment of mobile application development. Built an app with us