On every website, it is not difficult to trace out the table components. However, this feature is usually overlooked. This is because it only contributes to a small part of the website, indeed. This could lead to the consequence of necessity comes we won't remember that we need to add a table. So, we should have a table CSS template, even if it shows little roles in your website.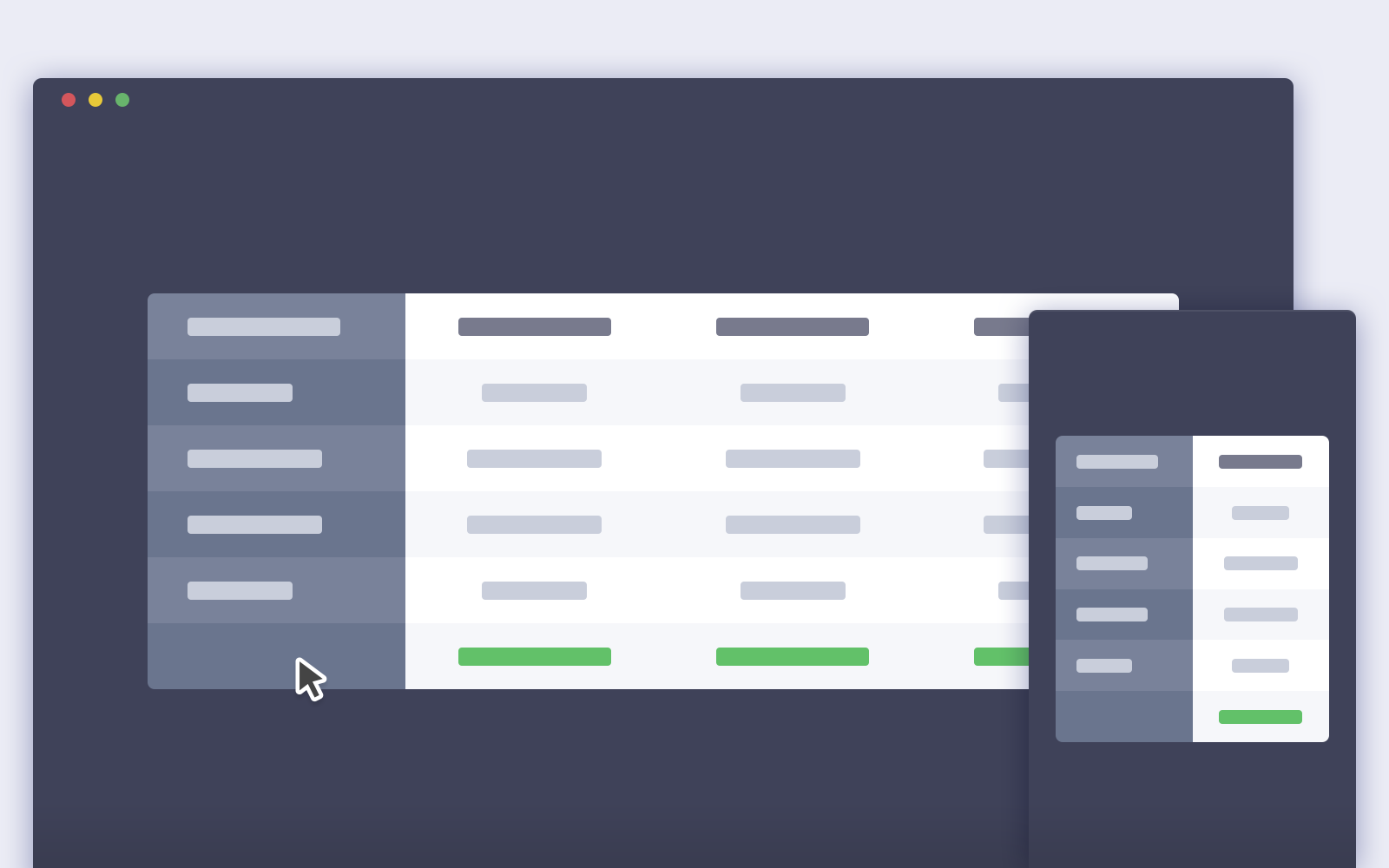 After all, CSS table is a broad category, the tables are used for different purposes. The main purpose of it is to show a list of data. If you are making a table template for a stats rich website, then make sure you have a horizontal and vertical highlighting option. So now, we – ArrowHiTech would like to introduce to you guys the top 35+ simple and beautiful examples for creating the best table CSS template. Let's go!
#1. Fixed Column Table
It's not always possible to show the data or stats in a single table. As a result, websites must provide scrolling options for users in order to help users see the complete record. So, this table CSS template gives you that option out of the box. The developer has given you an ample amount of space in the column to add even longer contents without any trouble.
#2. Fixed Header Table CSS template
Fixed Header Table is a package of five CSS table templates. With this package, you get different color options and style options, which makes this table package a unique one. Needless to say, these support an array of different aims and intentions, making sure they cater to a variety of different purposes.
#3. Fixed Table Header
As the name implies, this template is a vertical scrolling one. Fixed headers help in situations where there is a ton of data to skim through, and it's best if the user is able to recall each row as it is, rather than having to scroll up and down mindlessly. By keeping this template as a base you can create your own custom tables in no time.
#4. David Kern HTML5 Table CSS template
Apart from the unique sectioning, this table template doesn't have any interactive elements or hover effects. Just like the design, the code structure of this table design is also simple and clean. Since this design is made only using the HTML5 and CSS3 script, you can easily work with this template and add the functions you want.
#5. Responsive Table CSS template
This template is a modernly styled table solution that will look great on websites that want to achieve that futuristic look. An ample amount of space is given between each column and cells. The user can easily read and interact with the contents on the table. The developer has used the HTML and CSS code alone, hence you can work easily with this table design.
#6. Fade and Blur on Hover Data Table
This table CSS template uses some advanced JavaScript elements to help developers achieve better results with their tables because sometimes the data in the tables can be quite extensive and stretch far out. The "fade on hover" feature helps make it easier to focus on what the user wants to learn more about.
#7. HTML5 Editable Table
Query and HTML5 add so much to the modern development experience, and this HTML5 Editable Table template from Ash Blue is the perfect example for it. This jQuery amplified template will let you add and remove table items directly from the browser, but also let you edit each specified list item as you require.
#8. Simple Table Concept
The clean design of this table CSS template makes it a good option for mobile application table screens as well. Alternate light and dark row colors clearly distinguish each row entry. Plus, it avoids the use of table grids and makes the table look less bulky on the small screen devices. By keeping this design as a base, you can create your own custom table in less time.
#9. Adaptive Pricing Table CSS template
The adaptive pricing table is an animation-rich pricing table. Visual effects are another tool that developers use to get user attention on the required elements and sections. This table CSS template follows a simple usual design. Visual effects are the place where this template really stands out from the crowd.
#10. HeavyTable
This is an actual JavaScript library, but it does happen to use CSS3 for its styling, and even if you aren't keen on using the full library, you can use the CodePen page to at least extract all the CSS3 snippets and use the table template elsewhere. This modern and digitalized table solution also allows us to directly manipulate table data for each assigned row.
#11. CSS Table Layout
This is such a CSS template that comes in three different colors; red, green and blue. Each table features a variety of rows, but ultimately it comes down to yourself and what kind of data you want to display with your tables, this is just a template that you can use to make it all happen and to enable mobile access to these tables.
#12. Pricing Table CSS template
With a modern feel and look, this Pricing Table template will fit well between modern and Bootstrap optimized designs, and for those situations where you wish for the pricing module to really stand out from the rest. You can quickly set a leading pricing plan by setting a background color or add more pricing options, or in fact, remove them.
#13. Flat University Timetable
The creator has used classy design effectively to make a user-friendly table. Hover effects are used smartly to give tooltips and short notifications. If you like to make the tooltip animations even more engaging, take a look at our tooltips CSS design collection. Since it is a timetable concept, different colors are used effectively to organize related content.
#14. Flat Table CSS template
We saw material design, but other design types are still falling behind it seems, except for Flat CSS table template. It shares with his fellow community members a minimalistic table template based on Flat design. Moreover, it can add two icons to the tables; Edit and Delete, but these will require some additional jQuery coding in order to make them work.
#15. Angular Material Table
The developer has shared the entire code used to make this material design table. Hence, you can easily work with this design. Apart from the sorting and search options, this table CSS template also has a pagination option to easily navigate between the pages. If you like to add your own unique touch, this has a free pagination design collection.
#16. Tables – Pure
Pure is a framework library. By adding Pure to your website or project, you are entitled to use more than 10 different elements. This will make web development much quicker, and much more of an enjoyable experience. Pure focus on helping developers to rapidly build elements without having to worry about styling them.
#17. Slick Table CSS template
This has basic options like hover highlighter and neat segmentations. Even you have the option to dim down the data that are expired. If you are making a table that shows real-world data, CSS table templates like this will come in handy for you. For handling dynamic content and manage data easily, the Bootstrap Data table has included a separate post.
#18. CSS Table Module Level 3
To be able to fully comprehend things, it's a wise idea to read the actual documentation on something. In this case, you should read the table module/element. We recommend this excerpt from the official CSS3 standard to learn more about tables, and table modules. You should also learn more about how they interact with CSS3.
#19. Sortable Tabular Data
Basically, this is a table optimized with some jQuery to help you quickly sort and align your data based on ascending and descending information, be it letters or numbers. Cool to use when you are working with a data library, and need a quick way to sort the data within the browser. By far, this is kind of a great table CSS template that is trendy up to now.
#20. Nutrition Facts Table in HTML & CSS
For displaying nutrition facts for literally any food item out there, this template has come to existence. Of course, adding each of the facts standalone could take up some time, so we highly recommend to take this template and integrate it within your existing platform to output nutritional information for products and filter all your data through this template.
#21. Flat Pricing
This table CSS template is long enough to list the key feature of each plan. At the top, you have space for tags. You can use the tags to show the plan name and mark the latest plans. Zoom effects are used when the user hovers over the table. Call to action buttons are placed at the footer so that the user can easily go to the corresponding page or the payment page.
#22. Responstable 2.0
Native HTML5 unfortunately isn't responsive to the browser, however, with a few tiny CSS3 modifications the preferred result can be achieved. Responstable 2.0 is a very elegant solution for those who need nothing but a responsive table template for the use in apps and websites. You can also incorporate a form of submission for this table to submit selected table rows.
#23. Bootstrap Table CSS template
Bootstrap is the most famous front-end development framework on the planet. This template helps front-end devs to rapidly build websites without having to invest much thought into the process of making something look pretty, as every element is already pre-determined, and all you have to do is allocate the positioning, and maybe change the colors up a little.
#24. Dark Sliding Tables
As the name implies this template uses a dark theme. Instead of providing a separate table layout, this table CSS template uses a static table layout, and within the layout the table changes. The transition effects are sleek and quick, with different color texts are used to highlight important points.
#25. Calendar Table CSS template
Tables have many purposes, one of them is to serve data in a hardened way. Calendars are much like tables. You can customize them to display different information for each row (date). So, we felt it's necessary to include this amazing CSS3 Calendar template. This template is based on the approach that all tables take as well.
#26. Table With Vertical & Horizontal Highlight
These HTML5 & CSS3 tables come with highlights for both vertical and horizontal rows. We made sure to have several different variations, so you can choose the one that works the best for you. You just hit the download button and you can already start using these tables with your web applications, tailoring them to your style precisely.
#27. Bulma Pricing Table CSS template
The pricing tables need not be designed in vertical boxed always, you can try something different. Three types of pricing table arrangements are given in this package and each has its unique style. All three uses the same flat style design with a flat color scheme. The only variation is the arrangement of the pricing table and its elements.
#28. Codyhouse Tables
The Codyhouse Tables has three pricing tables with the option to switch between monthly and yearly subscriptions. Card flipping animation and switching effects are clean and smooth. The only thing you need to add to this table CSS template is to show the people how much they save in the yearly plan.
#29. Codrops Pricing Table CSS template
The creators at Codrops has given you a set of pricing tables with innovative designs. As a package, this kit has twelve pre-made pricing tables. Each table has its own unique design and elements. Some of the pricing tables have cool effects and some have a clean design. Based on your need you can choose the one that fits you.
#30. Responsive Table Design
This template is a clean looking pricing table, which can be used for both websites and mobile applications. If you are a mobile app developer, the free UI kit list for high-quality mobile app kits and web application kits is for you. Coming to this pricing table, the design is kept simple so that you can incorporate this table in any type of website and application.
#31. Hosting Pricing Table CSS template
If you are having more than one plan to offer, then this is the table template for you. When you offer more packages the design of the table should help the compare the pricing easily. Even if you give a separate compare option, the pricing table should help the user to understand the basic difference between each plan.
#32. Fitness Pricing
This table CSS template is designed specifically for fitness websites. Health and fitness websites are the second most successful businesses to implement the membership system. The subscription model varies from month to lifetime access. As a result, you can clearly highlight the benefits and unique features of each plan to the users.
#33. Diamond Pricing Table
Diamond is a perfect table template for startups and modern websites. With the neat transparent content blocks, this template improves the readability of the texts without spoiling the visual aesthetics of the design. Another unique feature of this pricing table is it has a star rating in each pricing table.
#34. Spa Pricing Table CSS template
The Spa Pricing Table is an elegant looking CSS table template. With the neat transparent tables, this template gives you a visually appealing design. In the demo version, the automatic transition is used like in the carousel section if you need you can customize it to fit the overall design of your website template.
#35. CSS3 Pricing Table
This CSS3 Pricing Table template is a great example of how CSS3 can be used to display a variety of content in many beautiful ways. You can outline the most successful pricing module with an in-built outline template, and of course, you can quickly make any changes to make the table more suitable for your design.
#36. Crisp Table
The developer is just sharing work from a profession he is so passionate about. So, Crisp Table has come into existence. This table CSS template is an alternative solution for tables and for anyone who desires it. Perhaps, you just want to save some time by not having to style your design to look as crisp as this one does.
#37. Pink Pricing Table CSS template
Pink Pricing table is another simple looking CSS pricing table template. This is a very basic template that gives you the outer skeleton of your design. Shadow effects are used to highlight and show the pricing table from the background and rest of the design. If you are about to use this template for professional sites, you might need to work on this text link alone.
Final words
That should probably be it! Here are the top 35+ simple and beautiful examples of the table CSS template for creating attractive tables. All in all, creating a responsive and nicely designed table from scratch can be a daunting and time-consuming task. As a result, we need to choose at least one template in order to create the best and intuitive tables for the websites. So, choose wisely, and your business will thank you.
We – ArrowHiTech is proud to be one of the most well-established outsourcing companies all around the world. With over 12 years of experience, we can provide the best software development services for your business. You can check us out now: ArrowHiTech services. Also, if you want to go through our showcase, you should visit our product page here: MageSolution and our portfolio: ArrowHiTech portfolio.
If you have any questions, don't hesitate to contact us via email support@arrowhitech.com or our phone number +84 243 7955 813. We would love to hear every feedback from you guys.