In this article, we have hand-picked some of the best simple WordPress themes that you can install on your website. These themes are clean, easy to use, and relatively minimalist.
Before we start
Why should use WordPress?
Here's a look at a few key benefits of using WordPress to set up and run your business or personal site:
Firstly, WordPress Is Free & Open Source
Secondly, create Any Website With WordPress
Thirdly, WordPress Is 99 % SEO Friendly [Acc. to Google]
And, WordPress Is Easy to Use
WordPress Is Easy To Customize
Large Community Helps In Troubleshooting
Moreover, WordPress Is Secure EnoughWhy #8. WordPress Supports Multimedia
It Is Easily Integrated With Any Service/Application
It's Getting Exponentially Better
Top 15 best simple WordPress themes you should explore
Lusion is one of the best simple wordpress themes you should not miss. Because it is a multipurpose, functional and customizable eCommerce WordPress theme, one of the best . This theme released in September 2020 by ArrowHitech, with a competed intro-price: $19, Lusion consists of up-to-date effects and features that simplify the buying and selling process. In the end, it helps meet all clients' demand while uplifting your revenues.
Core Features
Full Customizability: modifying is more simple as you don't have to write any new coding
Responsiveness: your website will look stunning with high resolution elements and in all types of devices
One-click Demo Importer: one theme importer already offers pages, posts, sliders, widgets, and so many more
Unlimited Colors: easily change can combine different color palettes
SEO optimization: via semantic HTML code and CSS, search engines can index your site quickly.
2. Didi – An excellent one of the best simple WordPress themes list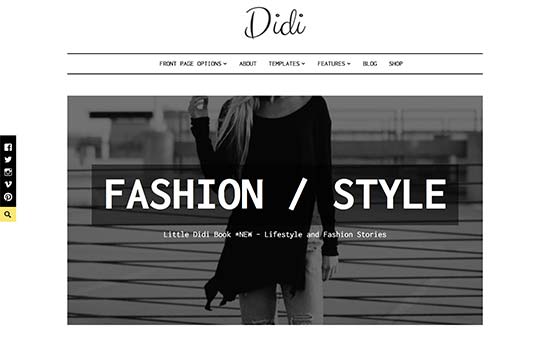 Didi is one of excellent examples for best simple wordpress themes with an elegant and minimalist design. This beautiful theme comes with multiple homepage layouts, page templates, widget areas, and more. All theme options are available under live customizer for easier setup.
It also includes full-support for page builders, WooCommerce, multilingual websites, and can be easily translated. Its easier setup and simpler design will help you get started with minimum effort.
3. True North
True North is a flexible and best simple wordpress themes with a beautiful design. Most important, it features a beautiful grid layout on the home page with a beautiful display of images. It also has multiple layout choices and a built-in portfolio section.
It also supports custom background, custom header, and has several custom widgets for social media and content discovery features.
4. Beatrix – One of the best simple WordPress themes for selling arts and craft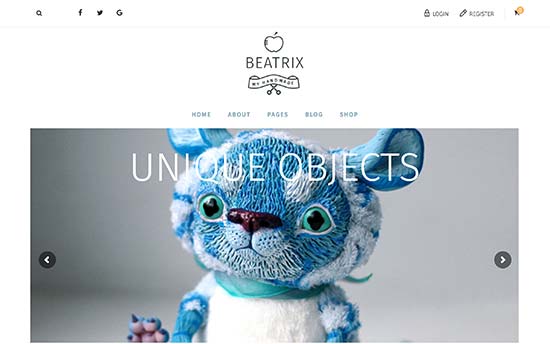 If you are looking for the best simple wordpress themes to sell arts and craft, then Beatrix is a great choice for that. This beautiful multi-purpose WordPress theme has full WooCommerce support and features a gorgeous homepage layout to showcase your products.

5. Coastline
Are you looking for best simple wordpress themes for your online store? So Coastline is a simple WordPress photography and portfolio theme with a beautiful column grid layout. It includes additional layout choices that you can use with several custom widgets, page templates, and sidebar navigation menu.
It has a portfolio content post type to design your portfolio. Coastline supports Jetpack to add powerful features to your website.
6. Essence Pro – Top best on the best simple WordPress themes list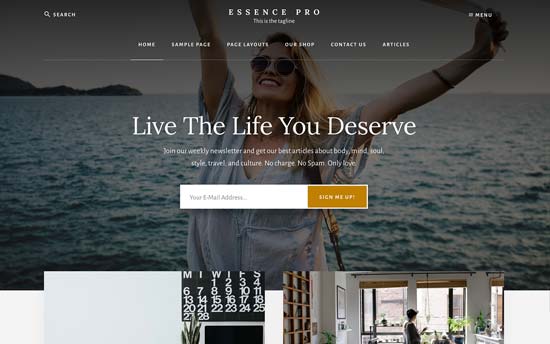 Among the sea of best simple wordpress themes, Essence is built on top of the Genesis theme framework. Firstly, it is a simple and clutter-free WordPress theme for health, wellness, and lifestyle niches. Moreover, it comes with a widget-ready home page layout where you can just drag and drop widgets to build your homepage. Thirdly, it is quite easy to use and very easy to set up.
7. Astra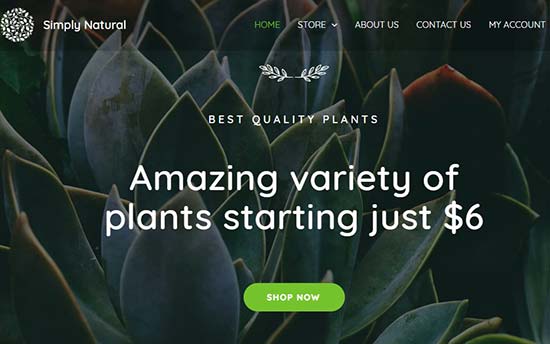 Astra is a colorful yet wordpress themes simple with multiple ready-made websites for lifestyle, fitness, food, and personal websites. It comes with multiple page layouts, several custom widgets, and unlimited color options. It is easy to set up and can be customized using the live theme customizer.
This theme is made for the page builders to quickly create pages with a simple drag and drop. Astra is optimized for speed and performance.
8. Paperbag
Paperbag is a simple WordPress blog theme you should know if you are seeking wordpress themes simple. It ships with 20+ color and typography schemes and different layout styles. There are several custom widgets inside that you can use for social media integration and content discovery features.
It has a built-in featured content carousel for the homepage. All the theme options can be set up using live theme customizer with lots of flexible options.
9. OceanWP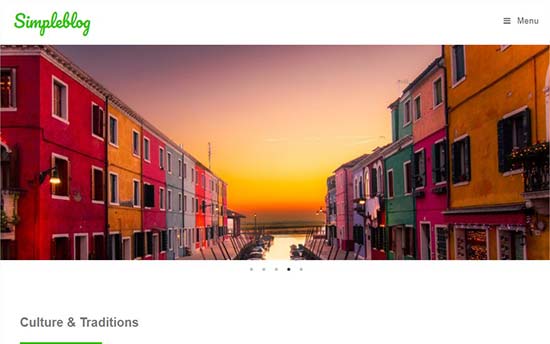 OceanWP is an elegant and one of the best simple WordPress themes designed specifically for blogs, magazine, restaurants, online stores as well as fitness websites. Most important, it comes with multiple layouts for your blog, powerful premium extensions, several custom widgets, and multiple post formats.
In addition, it supports custom logo, navigation menus, and social buttons. It also is WooCommerce ready, so you can easily add an online store to your WordPress site.
10. Atmosphere
Built on top of the Genesis theme framework, Atmosphere is one of the best simple wordpress themes for business, portfolio, and personal websites.
It has an easy to set up fully-widgetized homepage, a custom landing page, and a two column layout template. Theme setup is quite straight-forward with the help of both live theme customizer and does not take much time.
11. Neve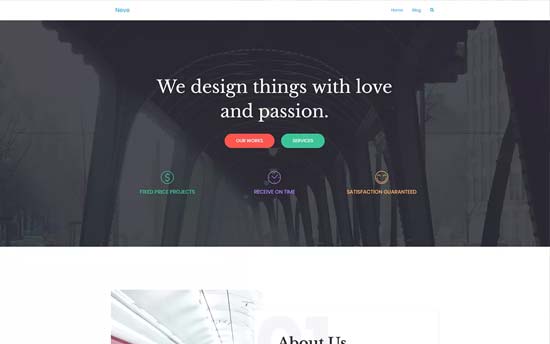 To continue the list of best simple wordpress themes, we want to mention to Neve. This is a free and simple WordPress blog theme. It comes with a navigation menu at the top alongside the search bar. It has built-in social sharing buttons, a featured content slider, and about us section on the homepage.
This theme is easy to customize and WooCommerce ready to create a storefront.
13. Tusant
Above all, Tusant is known as the best simple wordpress themes. Because it is a stunningly beautiful and simple WordPress blog theme built specifically for podcasts, music streaming, and video-based sites. To clarify, it is designed to help you create engaging content using images and videos.
Moreover, it uses beautiful animations with multiple page layouts and custom content discovery widgets. It also has a full-width custom background image and supports audio and video sources.
14. Writee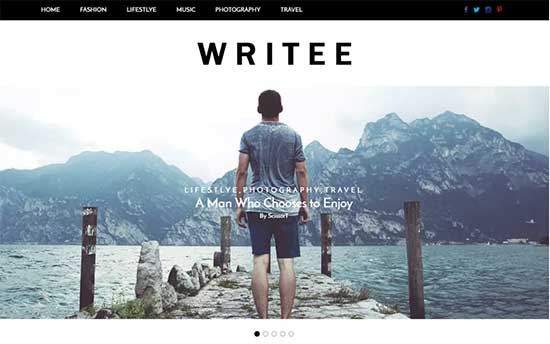 Writee is a free WordPress theme in the list of best simple wordpress themes for bloggers and writers. It features beautiful typography as well as an elegant layout that looks great on all devices. Inside you will find a featured content slider allowing you to showcase your most important content at the top.
15. Baskerville
The final theme we want to suggest you in the list of best simple wordpress themes is Baskerville. This is another free WordPress theme with beautiful layout and some pretty neat features. Moreover, it features a full-width header image and masonry layout for the homepage. It also uses beautiful thumbnails for your videos, text, and other post formats.
To Sum Up With The Best Simple WordPress Themes
We hope this article helped you find the best simple wordpress themes for your website. You may also want to see our ultimate step by step WordPress themes customization guide for beginners.
Any help with WordPress development services? Let's ArrowHiTech help you!
If you're considering web development services, include WordPress theme, you can explore more about us – ArrowHiTech. With over 12 years of experience, we can provide the best ecommerce development services for your eCommerce business.