Visual Studio Code (VS Code) is undoubtedly the most popular, lightweight code editor today. It does borrow heavily from other popular code editors, mostly Sublime Text and Atom. However, its success mainly comes from its ability to provide better performance and stability. In this article, I'll focus on a list of must-have VS Code extensions for JavaScript developers.
VS Code: Snippet Extensions
Here are some of the most popular snippet extensions for JavaScript developers.
Formatting Extensions
More often than not, we sometimes write code that's out of alignment with the rest of the code. To fix this, we need to go back and fix the indentation in each line. In addition, we need to ensure braces and tags are properly formatted in a readable format. This process can quickly get tedious.
Luckily, we have extensions below that can do the work for us.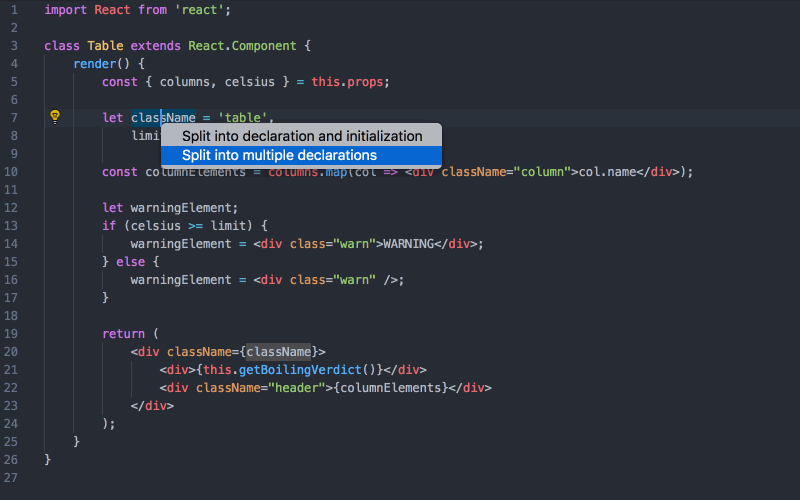 Framework Extensions
For most projects, you'll need a suitable framework to structure your code and cut down your development time. VS Code has support for most major frameworks through extensions. But there are still a number of established frameworks that don't have a fully developed extension yet. Here are some of the VS Code extensions that offer significant functionality.
Testing Extensions
Testing is a critical part of software development, especially for projects that are in production phase. Here are some popular VS Code extensions for testing.

Browser Extensions
Unless you're writing a console program in JavaScript, you'll most likely be executing your JavaScript code inside a browser. Here are a few tools that can significantly reduce the development time of your iteration process:
Debugger for Chrome, by Microsoft. With over 5.2+ million installs, this extension allows you to debug your JavaScript code in Chrome, or any other target that supports the Chrome Debugger Protocol. If you're new to this extension and debugging in VS Code, do check out our VS Code and Chrome debugging tutorial.
Live Server, by Ritwick Dey. This extension allows you to launch a local development server with a live reload feature for static and dynamic pages. It has 4.6M+ install to date.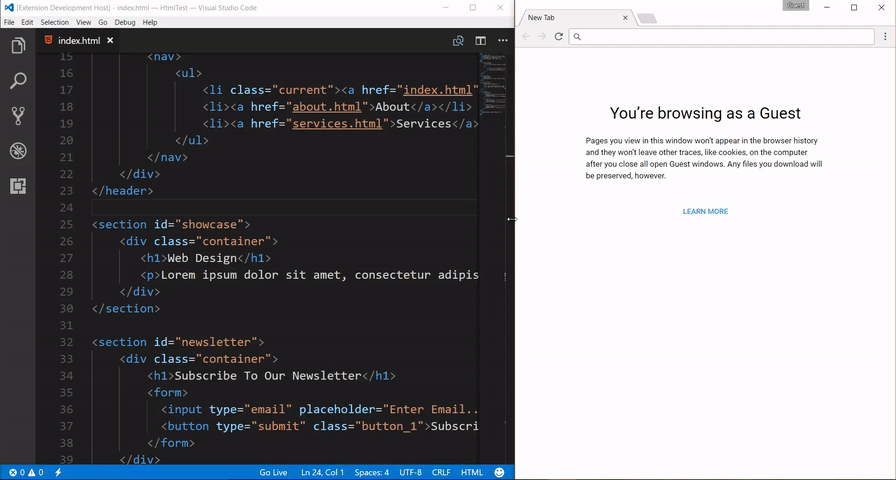 Preview on Web Server, by YuichiNukiyama. This provides web server and live preview of HTML. The features can be called from a context menu or editor menu. It has 120k+ installs to date.
PHP Server, by brapifra. Built for PHP projects, it's still useful for testing JavaScript code that needs to run client-side only. It has 234k+ installs to date.
Rest Client, by Huachao Mao. Instead of using a browser or a CURL program to test your REST API endpoints, you can install this tool to interactively run HTTP requests right inside the editor. It has 834k+ installs to date.
VS Code Summary
VS Code's huge number of quality extensions makes it a popular choice for JavaScript developers. It's never been easier to write JavaScript code this efficiently. All of these tools make your iteration process far much easier.
Hope this list VS Code extensions that can help you in your workflow.
Want to work with web and mobile app development company?
If you're considering web development services, you can explore more about us – ArrowHiTech. Above all, we are proud to be one of the most well-established outsourcing companies all around the world. In addition, with over 12 years of experience, we can provide the best software development services for your business.
So, you can check us out now: ArrowHiTech services. Also, if you want to go through our showcase, you should visit our product page here: MageSolution or our portfolio: ArrowHiTech portfolio.
So, if you have any questions, don't hesitate to contact us via:
Email: support@arrowhitech.com
Phone number: +84 243 7955 813.