Building a website is quite difficult if you're a newcomer. This is because a lot of websites have the best content, yet in a poor design. Moreover, even if the site has a great design, the lack of maintenance is still an issue to overcome. Also, the web development process required hours and hours spent on designing the perfect website; monitors cramped with thousands of lines of codes; and the alternation between developers and designers.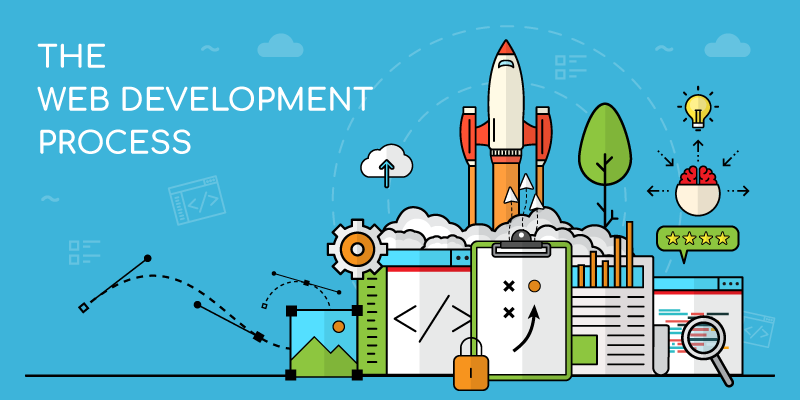 After all, the site is considered to be the face of the company, so it has to be all-sided perfect. If well-executed, a good procedure of website development will help you to effectively create any type of website, with successful user traffic, good user experience, and high retention. So now, we – ArrowHiTech would like to introduce to you guys the essential steps on how to conduct the best web development process. Let's go!
Step #1. Gather information to understand the client's needs for the web development process
A lot of people who start building websites neglect this crucial step, which may result in a corrupted website. So, to ensure a great web development process, you need to get a clear understanding of your future website purposes, the main goals you wish to get, and the target audience you want to attract to your site. Such kind of a website development questionnaire helps to develop the best strategy for further project management.
Step #2. Planning your web development process
After you have gathered the beneficial information to understand the most basic needs of your target customers, it's time to plan your development process. To be more specific, sitemap and wireframe creation is concentrated. The sitemap should describe the relations between the main areas of your website. On another term, wireframes, and mockups, on the other hand, gives an outline of the web pages.
Step #3. Design your site
During the design phase, your website takes shape. All the visual content, such as images, photos, and videos is created at this step. Thus, your web app gets a tangible identity. As a result, this step is critical to the overall web development process, especially the first impression. The first impression users have of a website is as much as 94% design-related. So, it is imperative to make sure your web app is aesthetically alluring to your audience.
Step #4. Development
In this stage, the design of your website is now under developers to run the codes on it. A web developer will use codes on the site to make it function and run smoothly. It is the most crucial step in development as the graphic design in the previous stage comes to life. Here, you can finally start making the website. Other elements designed in the previous steps are utilized to create an actual web design.
Step #5. Content writing and assembly on your web development process
Content writing and compiling usually overlaps with other stages of website creation, and its role can't be underestimated. At this step, it is necessary to put in writing the very essence you'd like to communicate to the audience of your website and add calls-to-action. To be more specific, the content should be modified for the website with headings, subheadings, tags, etc. so that people can find what they are searching for.
Step #6. Testing your web development process
Testing is probably the most routine part of a process. Every single link should be tested to make sure that there are no broken ones among them. Check every form, script, and run spelling check software so as to find possible typing errors. Use code validators to make sure if your code follows the current web development standards. This may take longer, but it's worth for a seamless, beautiful webpage.
Step #7. Maintenance your site
The web development process doesn't end after deployment. There are several post-deployment tasks to be carried out, and you shouldn't miss any of them. This may include providing the clients with the source code and project documents, work on their feedbacks and post-deployment support and maintenance. This step holds equal importance because the main purpose of the site starts once it's live for people.
Final words
That should probably be it! Here are the essential steps you may need to know about the web development process. After all, you should always keep in mind that the website development project doesn't start with coding and doesn't end after the day you finally launch your website. With a custom-designed website, you can easily stand out from the crowd and put more impact on people, so they will come back again to your website.
We – ArrowHiTech is proud to be one of the most well-established outsourcing companies all around the world. With over 12 years of experience, we can provide the best web development services for your eCommerce business. You can check us out now: ArrowHiTech services. Also, if you want to go through our showcase, you should visit our product page here: MageSolution and our portfolio: ArrowHiTech portfolio.
If you have any questions, don't hesitate to contact us via email support@arrowhitech.com or our phone number +84 243 7955 813. We would love to hear every feedback from you guys.