There is no better or more cost-effective way to advertise your business than on the World Wide Web. Trends in web design change almost daily, so it's good to keep up with them. Regular design for updating website can actually save you money. It's not about "keeping up with the Joneses" – it's more about keeping up with web standards. Consistency while browsing the web is important, especially for those who aren't savvy with technology.
To be frank, it's not enough to just have a website. It needs to satisfy the customers in a variety of ways. Otherwise, you're just competing for the attention of the same audience alongside another few hundred businesses. As a result, this is such an essential task for us to do. But let's be clear: Why is it essential for your business? So now, we – ArrowHiTech would like to show you guys why it is important for us to conduct the updating website.
1. A better visual appeal when having a updating website sequence
The appearance of your website reflects the value of your business. If your site looks professional and is loaded with useful information, readers will see you as an authority and expert. Likewise, if the site looks out-of-date or poorly-designed (sometimes both), they'll make the same assumptions about your company. So, your website should highlight your product and service. Moreover, the layout should look harmonious and consistent.
2. Mobile-first and/or responsive should be paid attention to
Your website should also be updated to look nice and be easy to navigate on multiple device types. Regardless of whether visitors view your website from a desktop computer, laptop, tablet, or mobile phone, it should dynamically adjust for each of these devices. If your eCommerce website isn't mobile-friendly or mobile-first, you will just alienate a large number of clients. So, keep your website updating sequence on duty, and beware of the visual in mobile devices.
3. Enhance your site's security
You hear stories all the time about websites getting hacked. There are many ways that hackers use to compromise your website. Sometimes they will hack into the backend of your website and use it as a spam server. Also, hackers can create a defaced homepage that shows some terrible messages about who hacked your website and why they did it. This could be troublesome for your business as a result, so update your website's security is essential.
4. Updating website can provide an easy way for navigation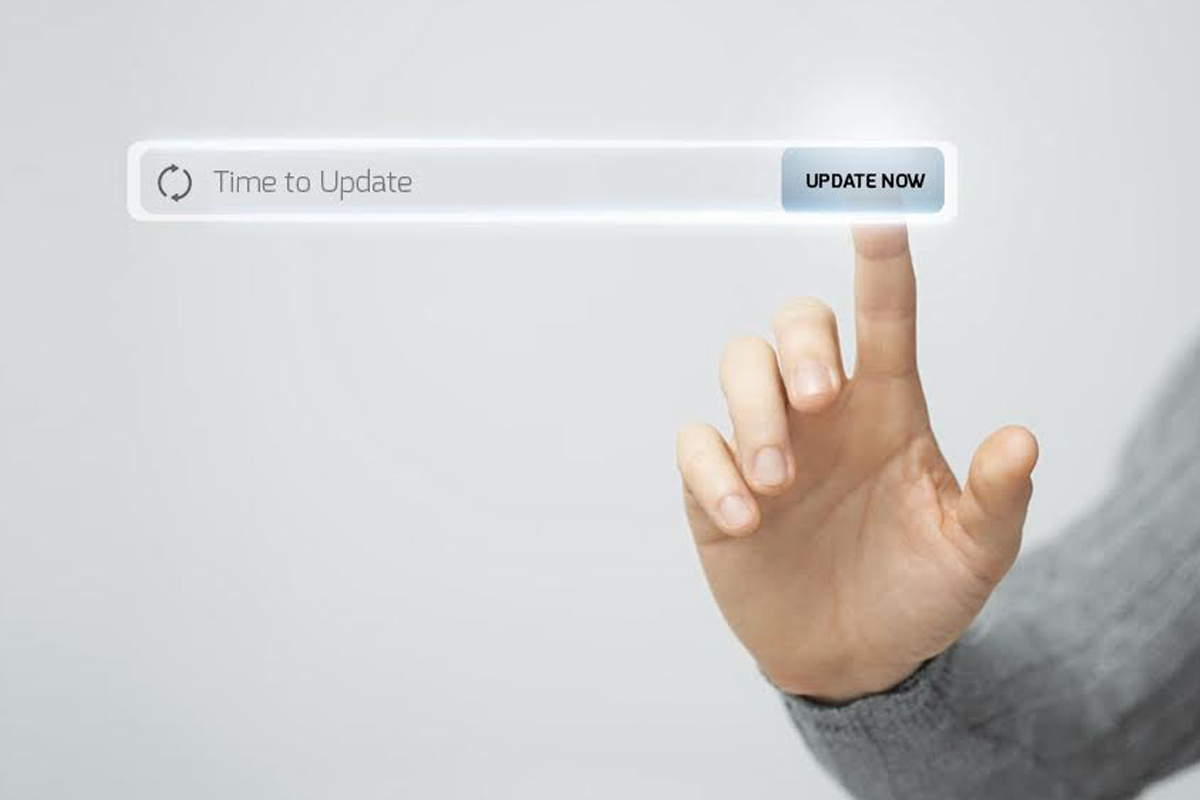 When we talk about user experience (UX), we are referring to the totality of visitors' experience. UX includes how easy your site is to use, how fast it is, how easy it is to find information, and how little friction there will be. Visitors obviously want to complete whatever action it is they're trying to complete on your eCommerce store. So, you and your business should focus on nudging the right visitor toward the must-have experience through website updating sequences.
5. Skyrocketed content recognization – Updating website
First impressions may be mostly controlled by the overall design of your website, but that is only the beginning. Once you've grabbed their attention, you need to further interest them with great content. Your written words while using updating website sequences should be interesting while also providing important information about the products and/or services you offer. As a result, your business will be noticed, and there will be lots of sales and conversions for you.
6. Better your SEO using updating website
When you update your website's appearance and content, this is a perfect opportunity to also update your SEO settings. These might involve reassessments of your newly-updated content, but it may also involve updating the underlying code associated with the new design. When you have your website up-to-date, it is important that your web designer consider these options as he/she is helping on updating your site.
7. Downtime reduction
In recent years, it is critical that you grab the attention of your visitors within seconds of their arrival to your website. Downtimes have become so important that even Google is rewarding sites that load faster with better search results placement. So, when deploying your updating website sequence, you should be aware of the loading time. This will affect a lot on your business as for the user experience and the ranking of recognization on your website.
8. Updating website results in better measurement
Updating your website, and you'll be able to measure the effectiveness of your website. An old website may not be equipped with the necessary tools that will help you measure how effective your online presence is. Examples of this include heat mapping, conversion tracking & user recordings. Nowadays, there is an assortment of online tools you can invest in to help you measure, only on one condition: You need to get your site up-to-date for usage.
Final words
That should be it! Here are some of the reasons why updating website is crucial for your business. All in all, your website must be equipped with the latest technological advances, as well as kept up with the most recent trends of eCommerce. Although there may be other signals that you need a website update, there should be enough here to guide you on the right path. So, we hope that you and your business could make use of this article.
We – ArrowHiTech is proud to be one of the most well-established outsourcing companies all around the world. With over 12 years of experience, we can provide the best ecommerce development services for your eCommerce business. You can check us out now: ArrowHiTech services. Also, if you want to go through our showcase, you should visit our product page here: MageSolution or our portfolio: ArrowHiTech portfolio.
If you have any questions, don't hesitate to contact us via email support@arrowhitech.com. We would love to hear every feedback from you guys.