Running a WordPress website is not always a smooth process for any website ever. The important thing is "when" things go wrong for your website. As a WordPress user, it is very important for you to keep your WordPress files and database secure and backed up in case data loss happens. In other words, when your website goes down, your immediate priority is to restore your website and get it back online, using WordPress backup.

With a proper backup of your WordPress database and files, you can quickly restore things back to normal. This is why backups are so important. So, the most important thing is: how can you implement your backups into your WordPress store? We – ArrowHiTech have the answer for you. In this article, we would like to show you guys the simplest way on how to implement your WordPress backup for your eCommerce website.

But first, let's go through some definitions.

What is a backup?

There are tons of definitions related to "backup". Our team, through a recent study, has come up with the one, and only definition: A backup is simply a copy of your site that you can reinstall (restore) should something go wrong. It's a failsafe, precautionary measure that saves you a lot of undue stress. It's like an insurance policy that protects all the effort, time and money you've invested in your WordPress site.

Why do we need to implement the WordPress backup?

The answer is quite simple. The backup will take care of your files as well as your database. This means should you lose your site, you just need to reinstall the backup and your work is done. If you don't implement a WordPress backup your files, which means you can't recover changes you make to your theme, even if it's corrupted. Also, by taking full control of backups, you can guarantee that your website can always be restored in minutes, not hours.

Some simple ways to implement your WordPress backup

If you are looking for an easy way to take a backup of your WordPress files and databases and most of all your precious content, we've got a few great suggestions for you. Let's get into it!

#1: WordPress backup using hosting

Your first option is to simply choose a hosting company that completes full, daily backups of your WordPress site. Some companies are offering automatic daily backups on all of your core WordPress files, themes and plugins, and your database (including all of your media). Also, you can initiate your own backups at any point (like before a major WordPress update, or when changing themes).

If you want to take your hosting provider managed backups to the next level, log in from time to time and download your own zip file copy to keep on your own hard drive. You never can be too safe.

#2: Backup manually on WordPress

Your WordPress directory contains sub-folders, for example: wp-content, wp-includes, etc, and files such as wp-config.php, theme, and plugin files. They are all required by your WordPress site. The wp-content folder contains all your themes, plugins, cache and uploads among other things. You absolutely cannot afford to lose this data. The wp-admin carries all the files required by your WordPress admin area, so you can't afford to lose this as well.

The wp-includes folder contains all the files that you need to integrate your WordPress backup. This is the folder where all the major WordPress code lives. You certainly don't want to lose this code. Some portals for you to backup manually can include subsequently: through cPanel, SFTP or manually backup your WordPress database.

#3: Using plugins to have WordPress backup implementation

A lot of free backup plugins are also available on the WordPress plugins directory. Unlike the manual method, backing up using a plugin is a hassle-free way to backup your site. Using a plugin, you can either take a complete backup at your convenience or schedule a regular backup. As a result, the backup process will be automated and performed regularly without you having to do anything.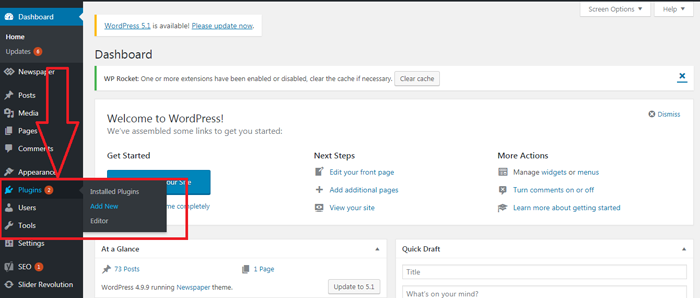 To be more exact, if you implement it using plugins, you can be able to automatically backup your data to your preferred remote location such as email, Dropbox, Google Drive, etc. Free plugins offer a complete solution for backing up the data and restoring it to your host. Yet, you might need a lot of advanced options that most of the free plugins are not shipped with if you want to further your implementation.

Final words

That should conclude all the simple ways on how to implement WordPress backup for your store. At the end of the day, having a reliable backup solution in place is the best thing you can do. Anything can happen at any time, but with backups in place, you will avoid unwanted stress. Just hit restore, and you're back in business.

We – ArrowHiTech is proud to be one of the most well-established outsourcing companies all around the world. With over 12 years of experience, we can provide the best WordPress development services for your business. Also, if you want to go through our showcase, you should visit our product page here: MageSolution or our portfolio: ArrowHiTech portfolio.

If you have any questions, don't hesitate to contact us via email support@arrowhitech.com or our phone number +84 243 7955 813. We would love to hear every feedback from you guys.