In this article, we are going to introduce the detail guide of workflow in salesforce, include the definition, benefits, alternatives and way to implement it.
What is workflow in salesforce?
Workflow is the part of Salesforce where you can build 'rules' to turn one action into a supplementary action. Salesforce workflow has been around for a while, and you can make certain actions happen a lot easier using other Salesforce functions. When set up correctly, it brings many benefits.
The benefits of workflow in salesforce
Speeds up the tasks and guarantees more reliable information
To clarify, you could save your reps time on data entry and eliminate human error. Moreover, you could doing more accurating, consistening, and completing information in your database. In addition, it costs less per hour for software to complete menial tasks than paying your sales reps to do them.
It streamlines activities across your sales team
If everyone is performing the same processes in the same way, you are better able to compare your sales team's individual performances. With an apples-to-apples comparison, sales managers can identify the rockstars as well as those who may need further training.
Workflow in salesforce provides step-by-step action, so no part of a process is accidentally (or intentionally) skipped. New salespeople who are not familiar with a particular part of the process may be tempted to skip steps that they shouldn't. For example, they may fast forward to pricing discussion before they have shown the value of their products and services. Automation adds structure and accountability for your sales team and leads to a higher win rate and an overall shorter sales cycle.
Help sales managers visibility into workflows and tasks
To clarify, they know where the lead is in the funnel and buying journey. If a lead goes unassigned, not called, or any other number of activities aren't completed, the sales manager can make adjustments to the sales process or workflow.
Related post: Salesforce Lightning Experience vs Salesforce Classic
Implementing change is easier to manage
Automation increases the speed and efficiency of making changes within the entire organization because you can make changes universally. There is no need to schedule or work in phases for each department to implement a change.
Improve the onboarding and training process for new hires
For example, sales managers can automate activities that route prospect information along with scripts and instructions to provide a clear road map for new sales reps to be up and selling on day one.
Alternatives to Workflow in salesforce
Workflow in salesforce was the original way to create automation in Salesforce, but it is not the only way. Other ways to create automations in Salesforce are:
With the wealth of Salesforce automation methods on offer, it can be difficult to know which is the right version to use. It all depends on the type and complexity of the automation you want to set up.
If the automation you want to create for your sales team is relatively simple, then your first port of call should be Salesforce Workflow. Workflow excels at automation functions with one simple 'if this, then that' statement. workflow in salesforce is ideal for automation that starts when a record is changed. For example, creating a task when a new record is set up. Workflow supports time-based actions, so you can leave an interval from the criteria being met before the action takes place.
Workflow in salesforce: Process Builder
Process Builder is a 'point and click' administrator tool in Salesforce that can be used to set up automation functions that help you in the sales process. It was launched in 2015 as a successor to its Workflow feature. Workflow still works, although it is no longer included in Salesforce updates.
Depending on the expertise of your Salesforce admins, Process Builder may come with a steep learning curve. If your admins already know how to use Workflow Rules and they can set up the automation functions you need in a short amount of time, why change?
You may have many Workflow Rules already set up if your organization is mature and you have been using Salesforce for a long time. Why spend time migrating them to Process Builder if they are running smoothly and you don't need anything changed?
In addition, some users believe that Workflow is better at handling automation on a large scale. If you are running hundreds or thousands of updates at the same time, Workflow Rules may be a better bet. However, Process Builder is continually being updated by Salesforce, so if there are any problems with it, you can expect them to be ironed out in due course.
Functions
Process Builder in Salesforce workflow performs every task that Workflow does (except sending outbound messages), plus some new tasks too. It also gives admins more control over the automation. For example, you can easily set the exact order of automation. That was a lot more difficult when using Workflow.
In Process Builder, you can configure many more automation functions than you can in Workflow. It is also easier to use because you design automation in using flowcharts rather than coding.
Here are some of the jobs you can automate using Process Builder in Salesforce:
Create a record
Update related records
Post to Chatter
Submit a record for approval
Consolidate Workflow – move across different Workflow rules into one easy Process
Send email
Trigger an automated launched flow
Set up a Quick Action – to log calls and administrate records
You can find out more about Process Builder in our FunnelFox article.
Process Builder was well received by the Salesforce community. As a result, workflow in salesforce is not used as much as it used to be, although many systems still rely on it.
When to use Process Builder
Consider the automation that you want to set up. Process Builder is ideal for automation functions that need more than one 'if this, then that' statement to be true before the action can take place. You can begin automation functions in Process Builder if a record is changed, if it is invoked by a different process, or if a message is received.
Like Salesforce Workflow, Process Builder supports time-delayed actions. You can use it to create records, update any related record, invoke processes, interact with Flow and Apex as well as post to Chatter.
While it works on all browsers, Salesforce recommends that you use Process Builder with Google Chrome. It also works with a visual designer.
Workflow in salesforce: Apex
Apex is another code-based way of developing automation or any other function in Salesforce. It's immensely powerful, but because it requires typing code, it is not for everyone. Think carefully before you decide to use Apex as part of your Salesforce automation plan.
Apex must be initiated by a qualified Salesforce developer. It must also be rigorously tested because every change you make needs to be validated against every other Salesforce function. You could find that in your quest to find speed and efficiency, you break something and cause more problems. To use Apex requires extensive training, skill and certification. For this reason, it's often a last resort.
Here are some of the functions you can automate using Apex:
Deleting records
Updating records that are not necessarily related
Distribute records
Add and remove users in Chatter
Generate email templates pulling information in from multiple records
Below an example of what Apex code looks like in practice:
Workflow in salesforce: Flow
Flow is a tool that sits somewhere in the middle of Process Builder and Apex. It is a way of building more complex automation functions with many different criteria involved.
Like Apex, it can be used to delete information which is handy for running your CRM efficiently. It is also useful for setting up confirmation screens within Salesforce.
It is more visual than Apex, you will not need to write code, but it is still best to use a qualified Salesforce developer when diving into the Salesforce backend in this way.
When to use Flow
There is a flow for more complex automation functions, or change of functions. If the automation you need requires user interaction, Flow should be your method of choice, as user interaction is not available using workflow in salesforce or Process Builder.
You can start Flow when a user clicks on a button or link, when they access a certain specific page or item in the utility bar. You can also link it with Apex to start if Apex called.
Like Workflow and Process Builder, you can set up time-sensitive automation using Flow. It is the only method that allows you to automate the deletion of records. Plus, its automated email facility is more advanced than that of Workflow or Process Builder.
Flow works with a visual design interface, like Process Builder. It works with all browsers. However, Salesforce recommends that you do not use it with Safari. The two do not play nice with each other.
Whether the priority is speed, testability, or functionality, for example, each tool should be assessed accordingly. The below illustration by Liu summarizes how each tool stacks up against different criteria.
How to configure Saleforce Workflow Rule Criteria?
By now, you know the basics of workflow rules in Salesforce. Now, you will come to know how to configure workflow rule criteria.
Once you log in to your Salesforce account, you will see the following screen:
Step 1: You'll see a menu on the left side of the screen. Scroll down to find Process Automation. Under this section, find Workflow Rules and click on it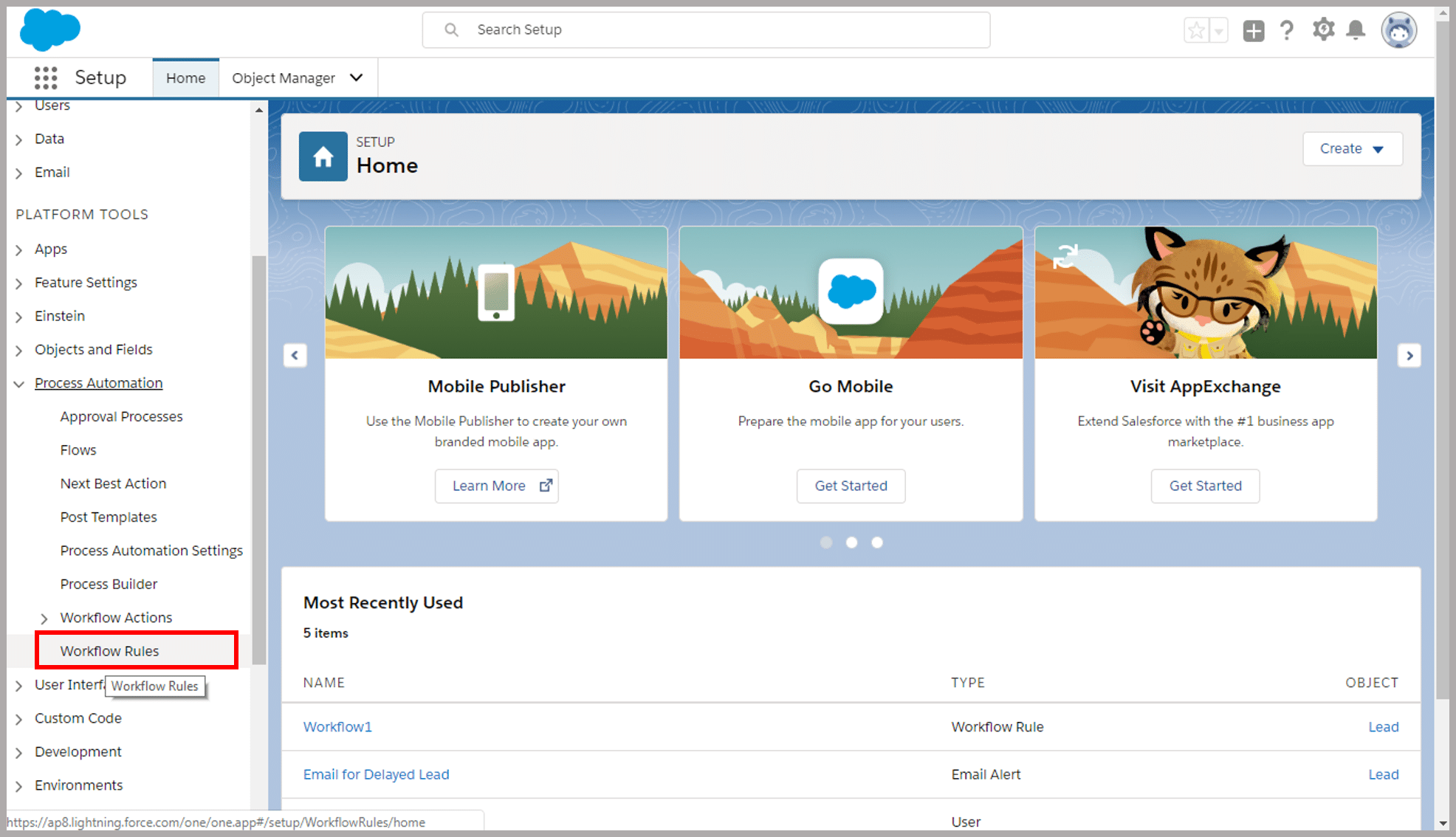 Step 2: On the new screen, click on New Rule to create a new workflow rule as shown in the image below: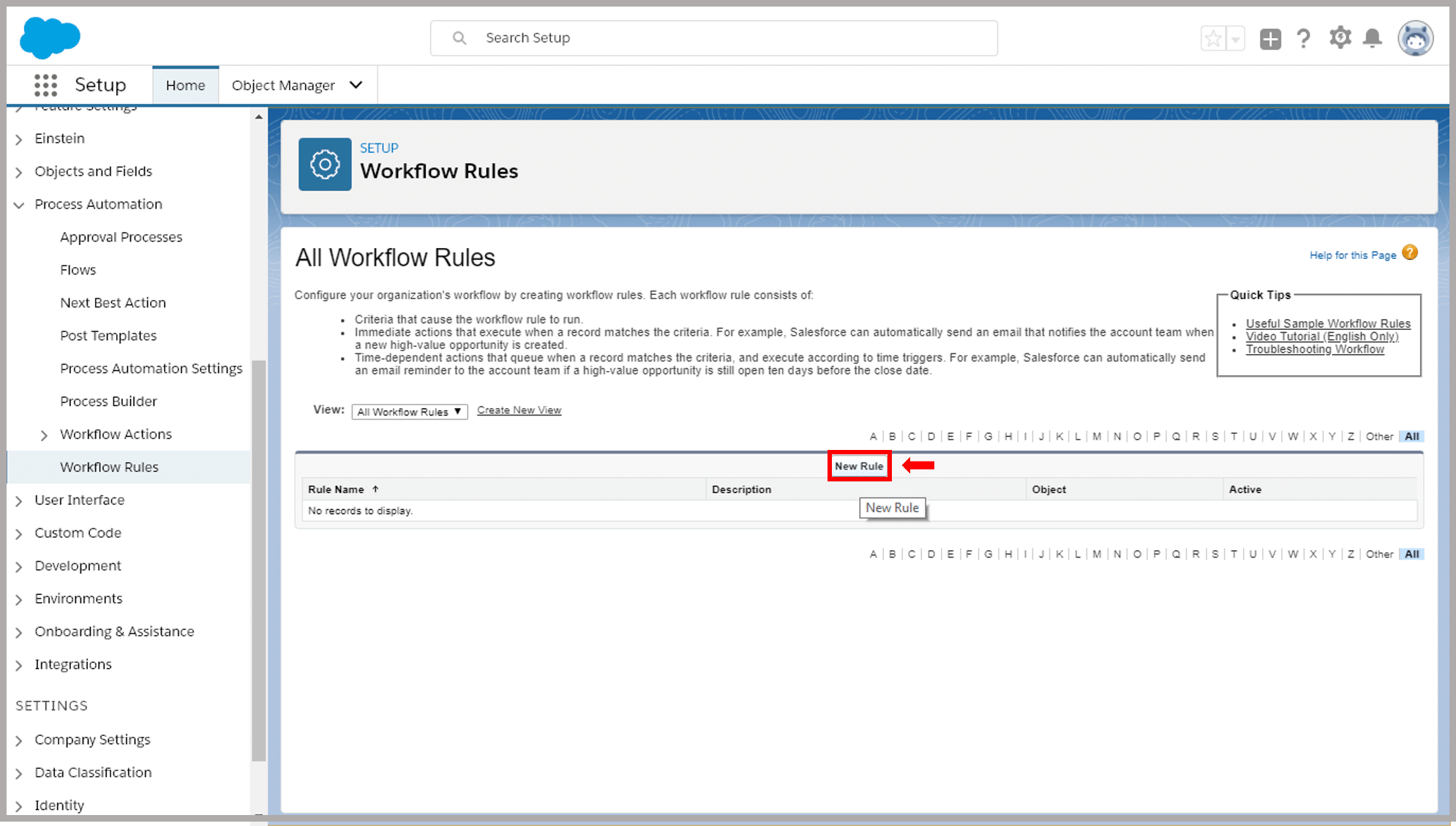 Step 3: You need to select an object now. You can choose any object from the drop-down menu. For practice, select Lead as the object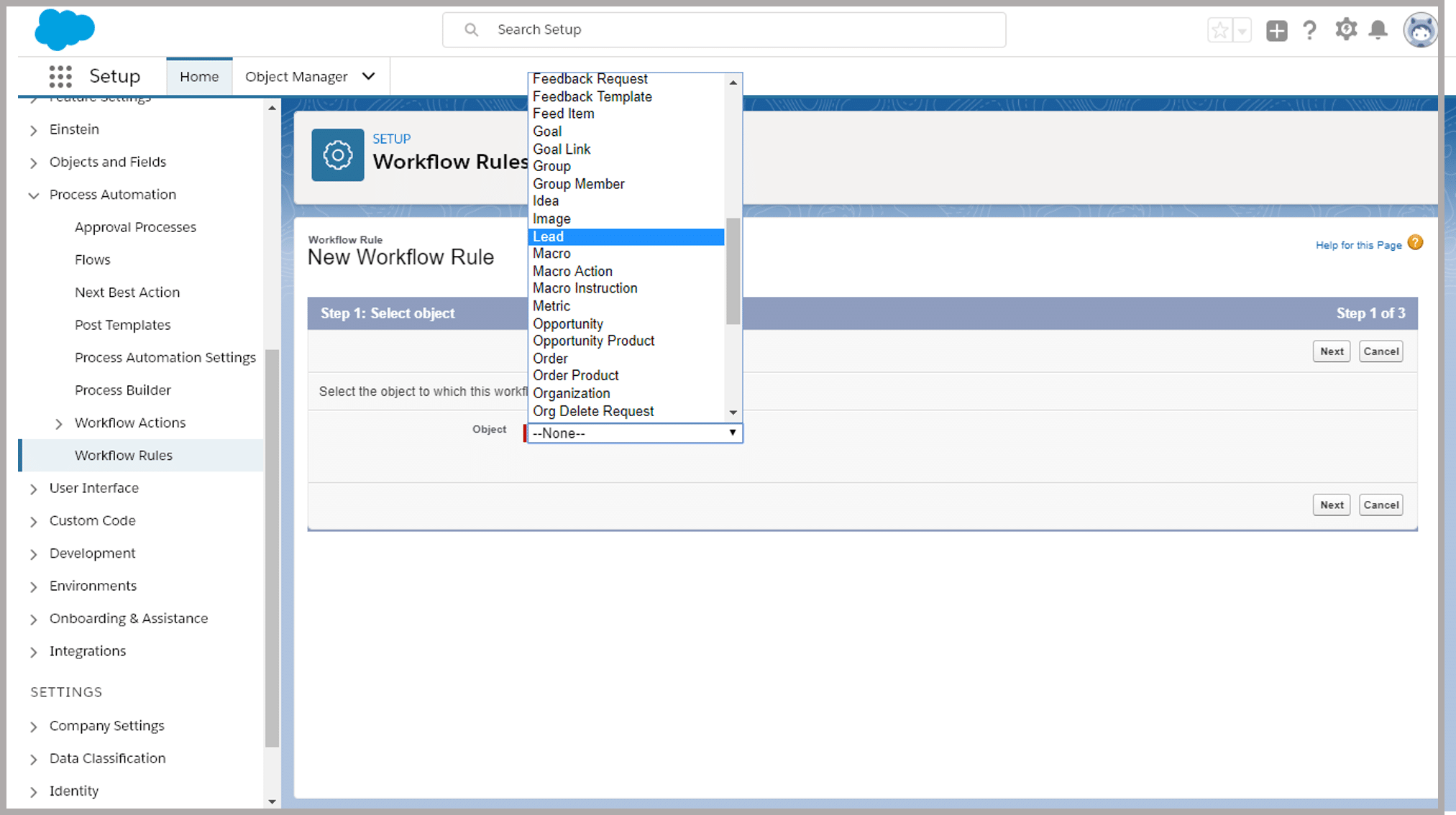 Step 4: In this step, you will configure the Workflow Rule. To do so, you need to enter the following details:
Edit Rule: Enter Rule Name
Evaluation Criteria: Choose the required Evaluation Criteria
Rule Criteria: Select criteria are met from the first drop-down menu. In the Field section, select the required field criteria. Explore different options according to your wish
Then, hit Save & Next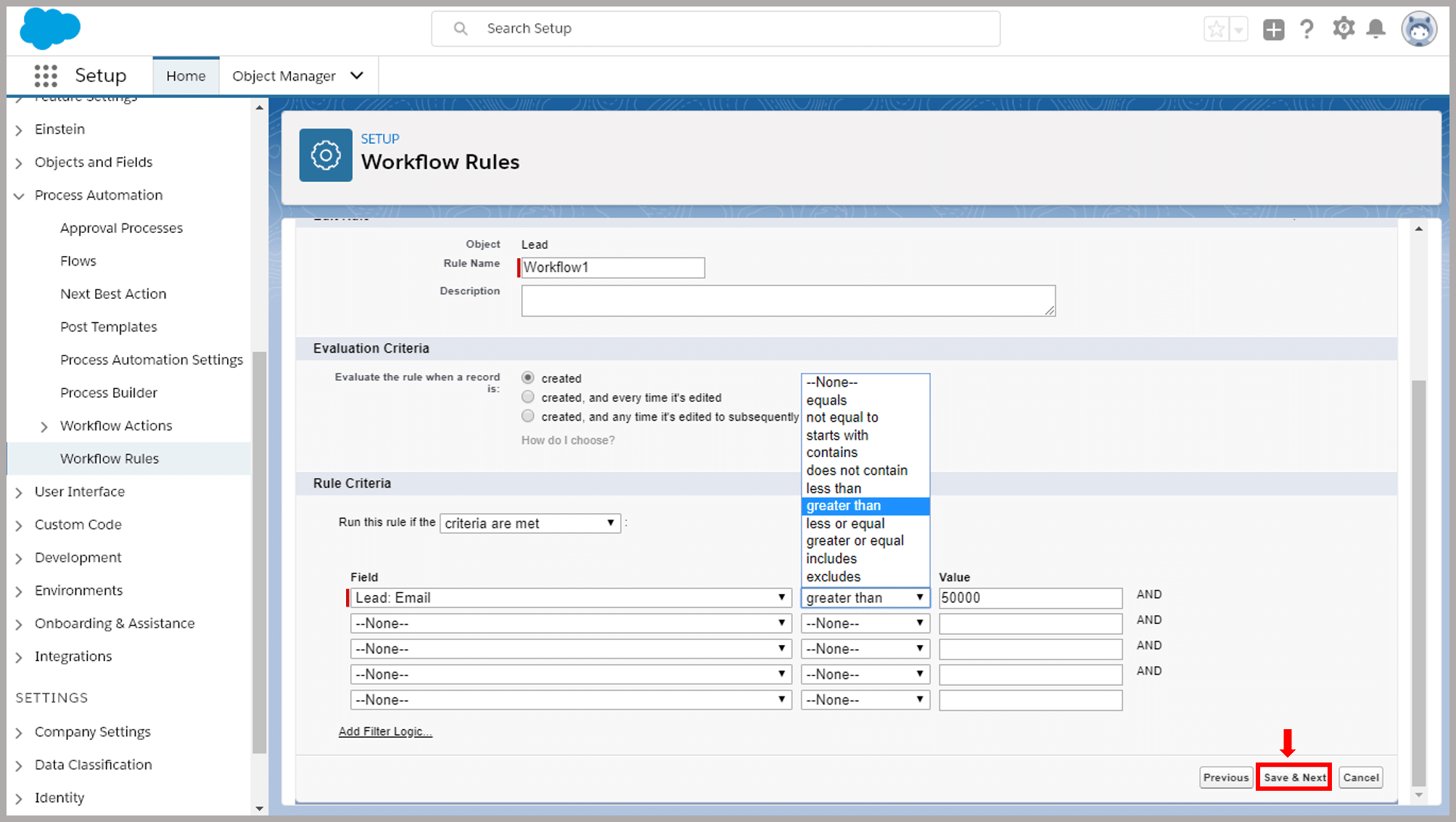 Step 5: In this step, you will need to add a Workflow Action. Select the action from the drop-down option (here, New Email Alert), and then click on Done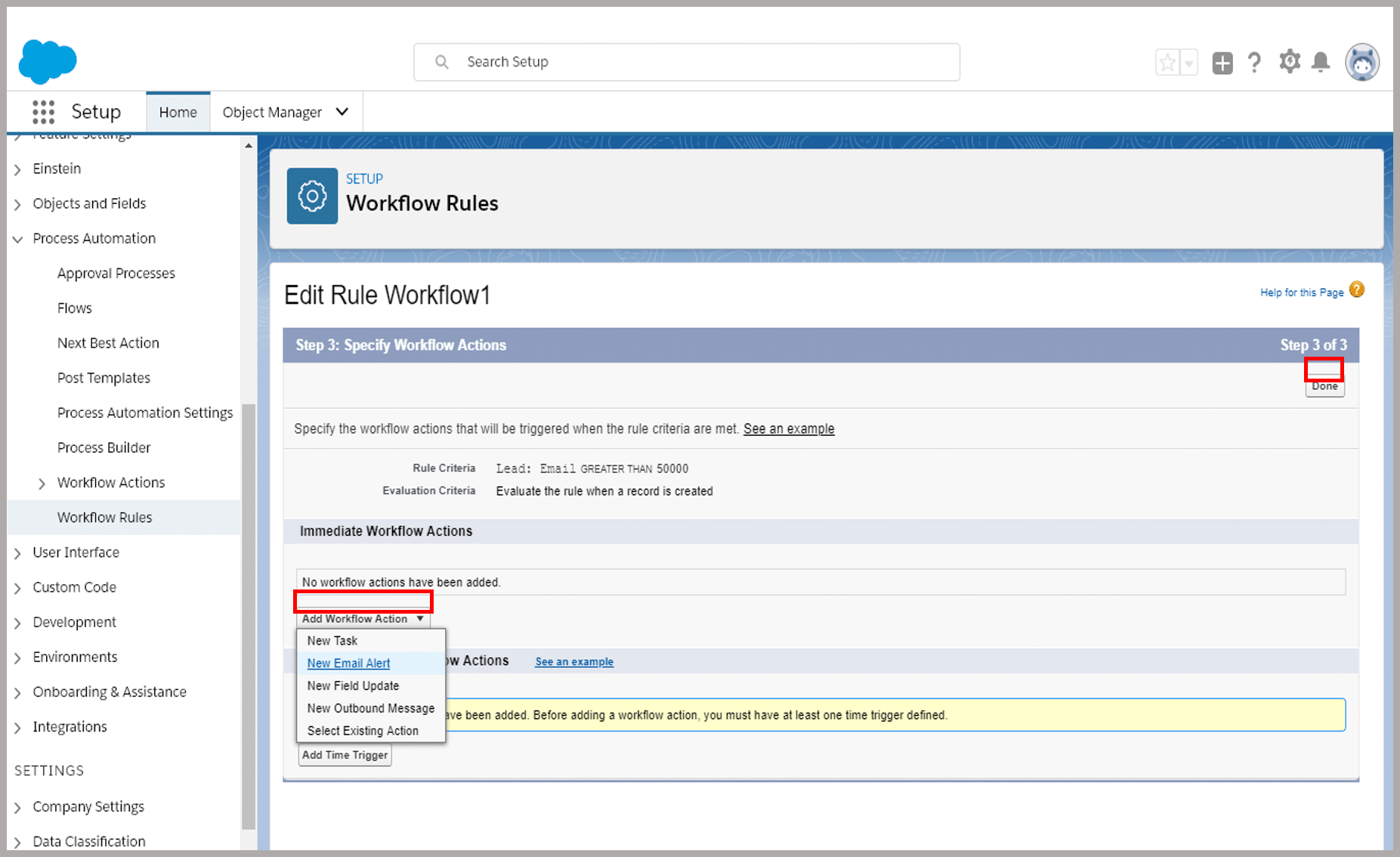 Step 6: In this step, you will create an Email Alert. To do so, you need to fill the following details:
Description: This textbox must contain what the Email subject should say
Unique Name: This is will appear automatically similar to your description
Email Template: An Email Template is the template of the text that will be present in the email. You can create an email template on your own or you can choose from the default options. You can do so by clicking on the magnifying icon beside the textbox
Recipients: Select the recipients to whom the mail has to be sent
After filling all the details, click on Save
Step 7: Next, on the following screen, click on Done to save the existing progress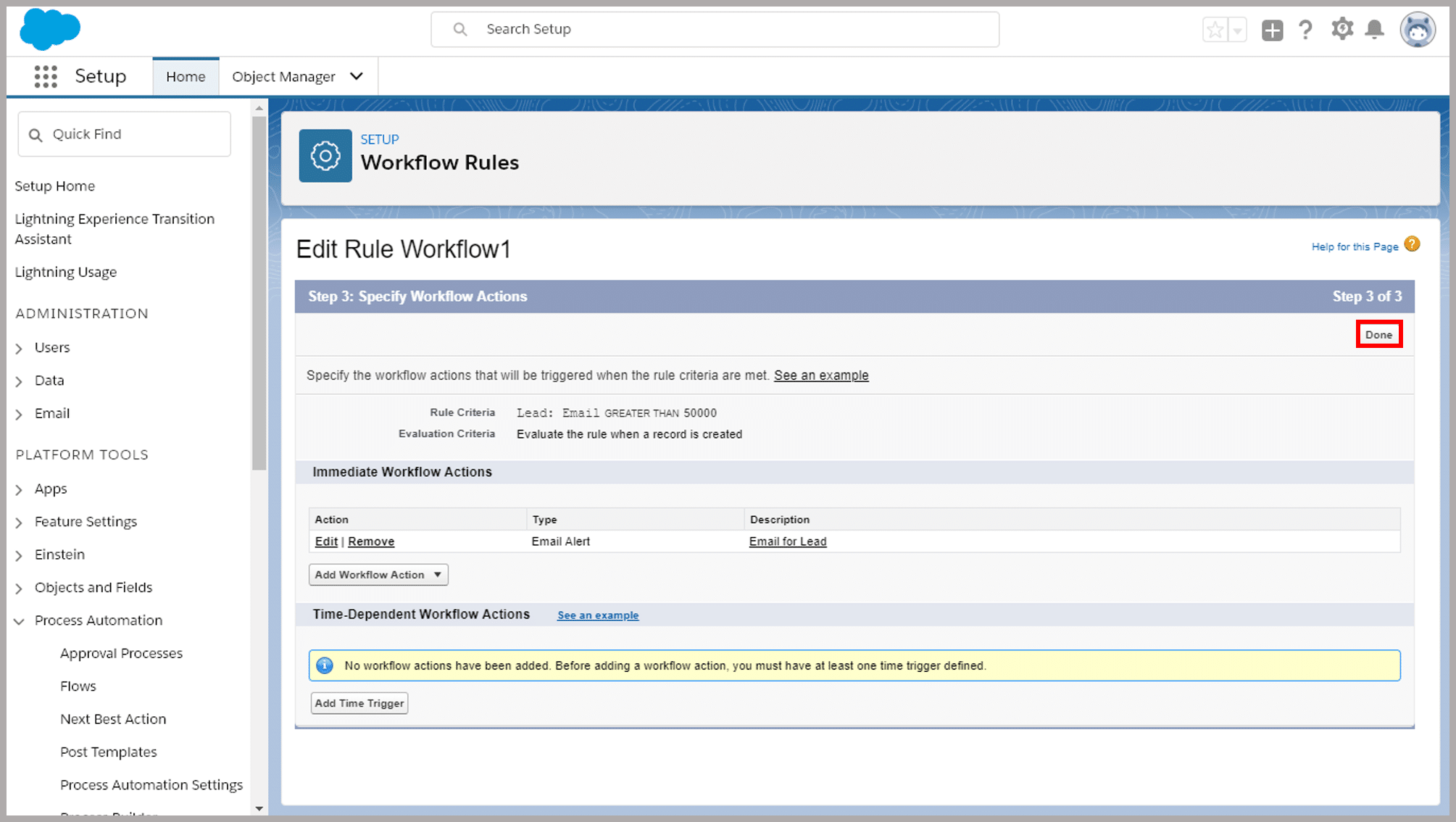 Next, Step 8: Click on Activate to activate the workflow rule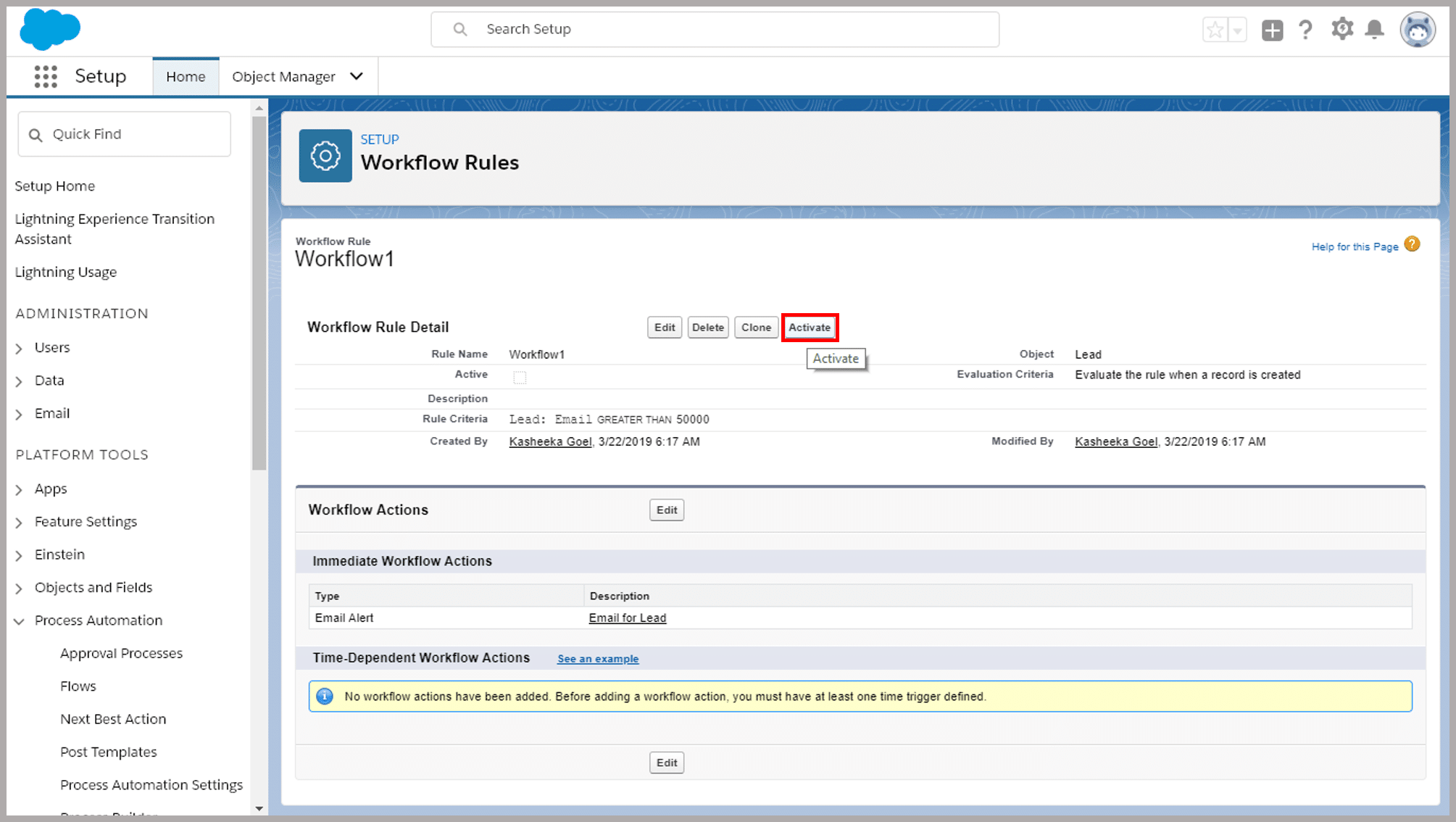 Move to Step 9: Click on the + button and select Lead or the object name you created from the list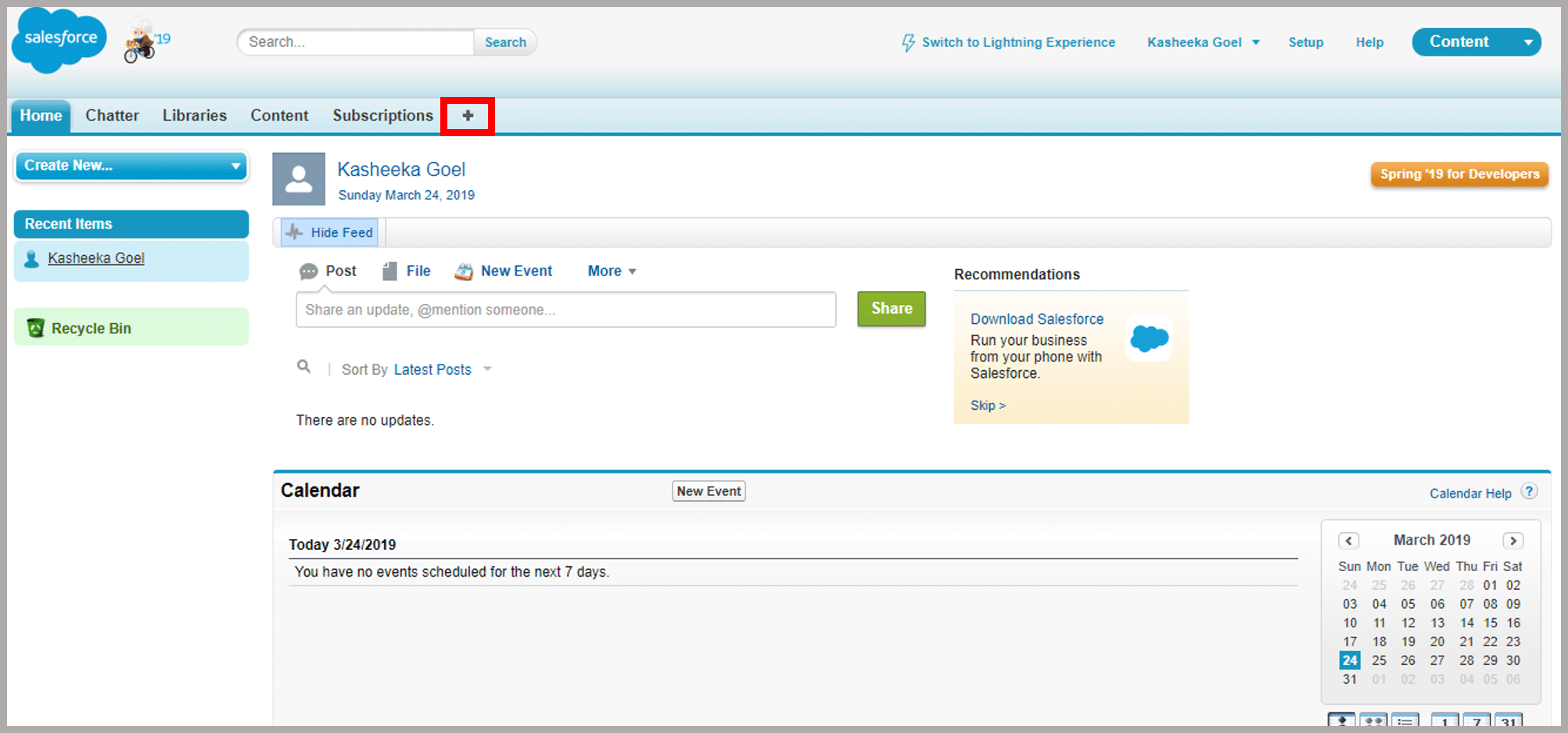 Step 10: Click on New to create a record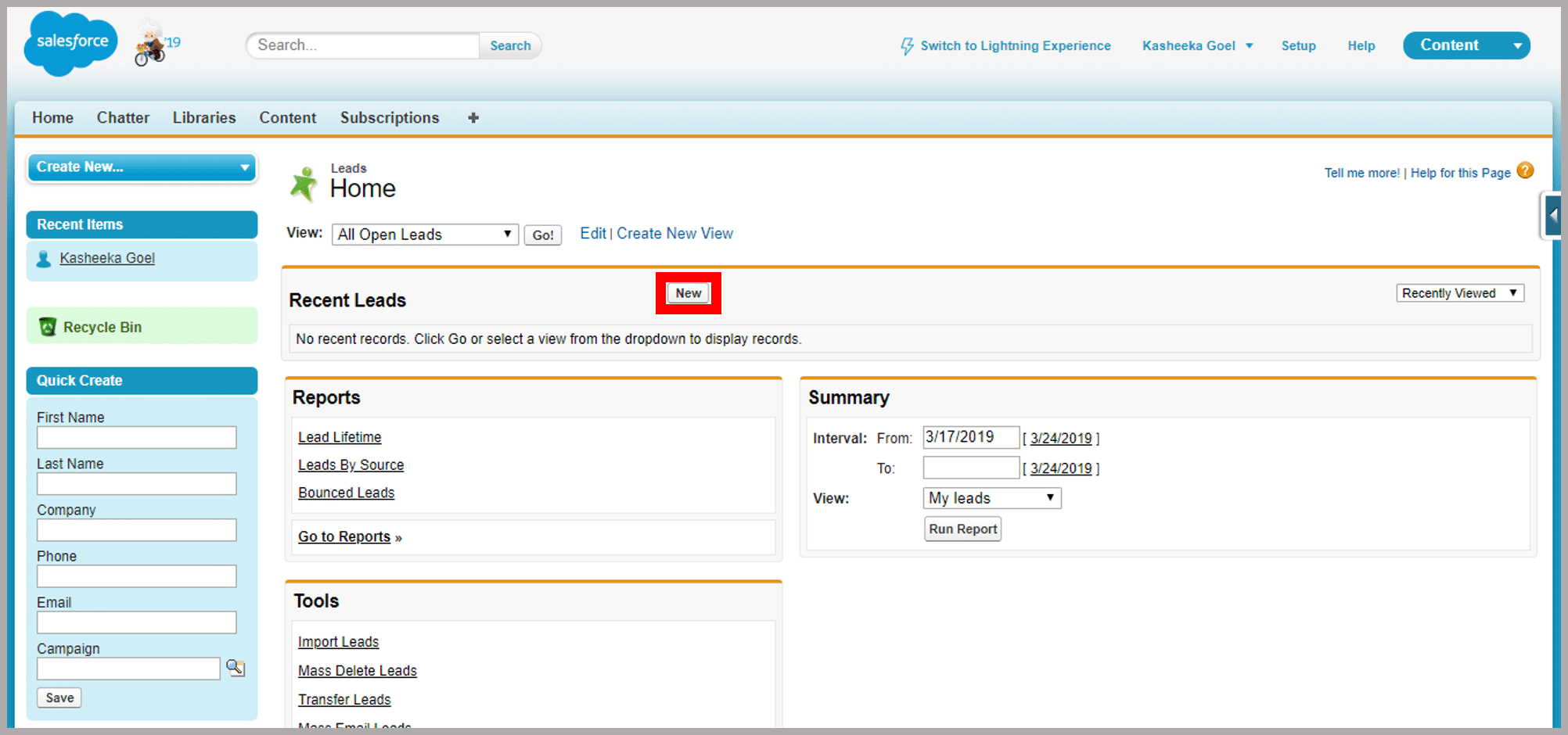 Step 11: After you click on New, the following screen will appear. Enter all the necessary details here and click on Save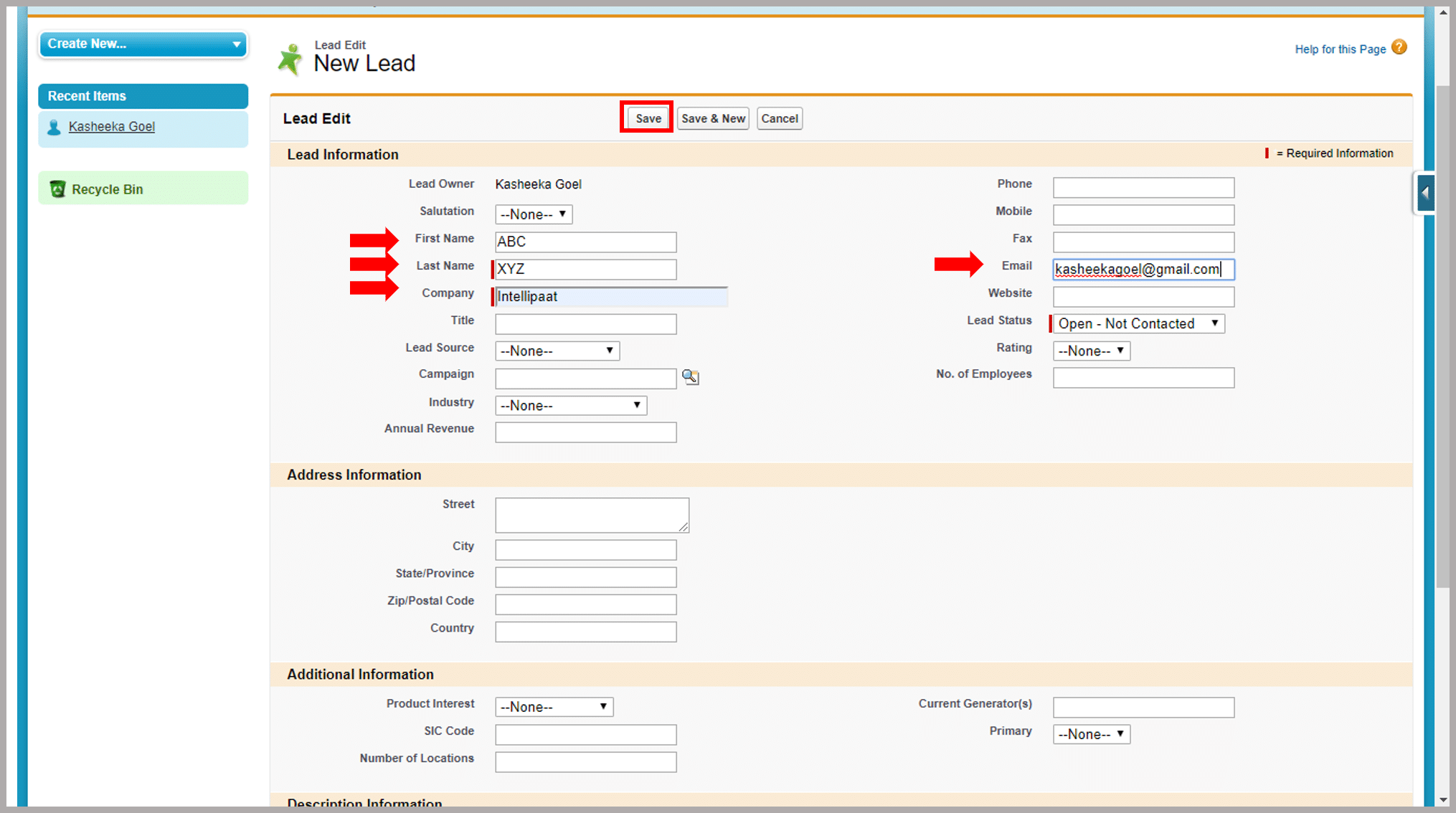 After saving, a screen showing the confirmation of data will be displayed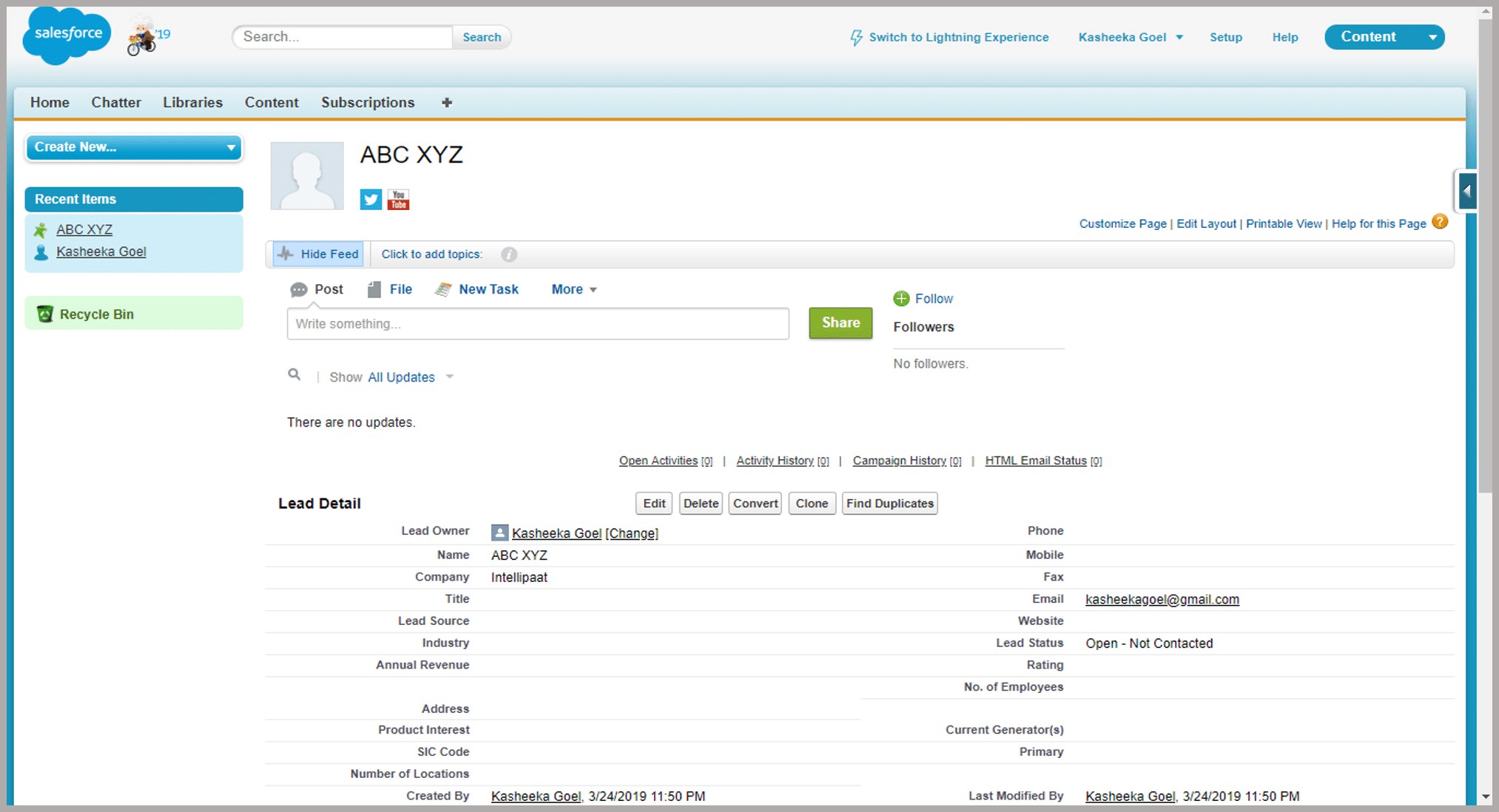 Also, you will receive a confirmation mail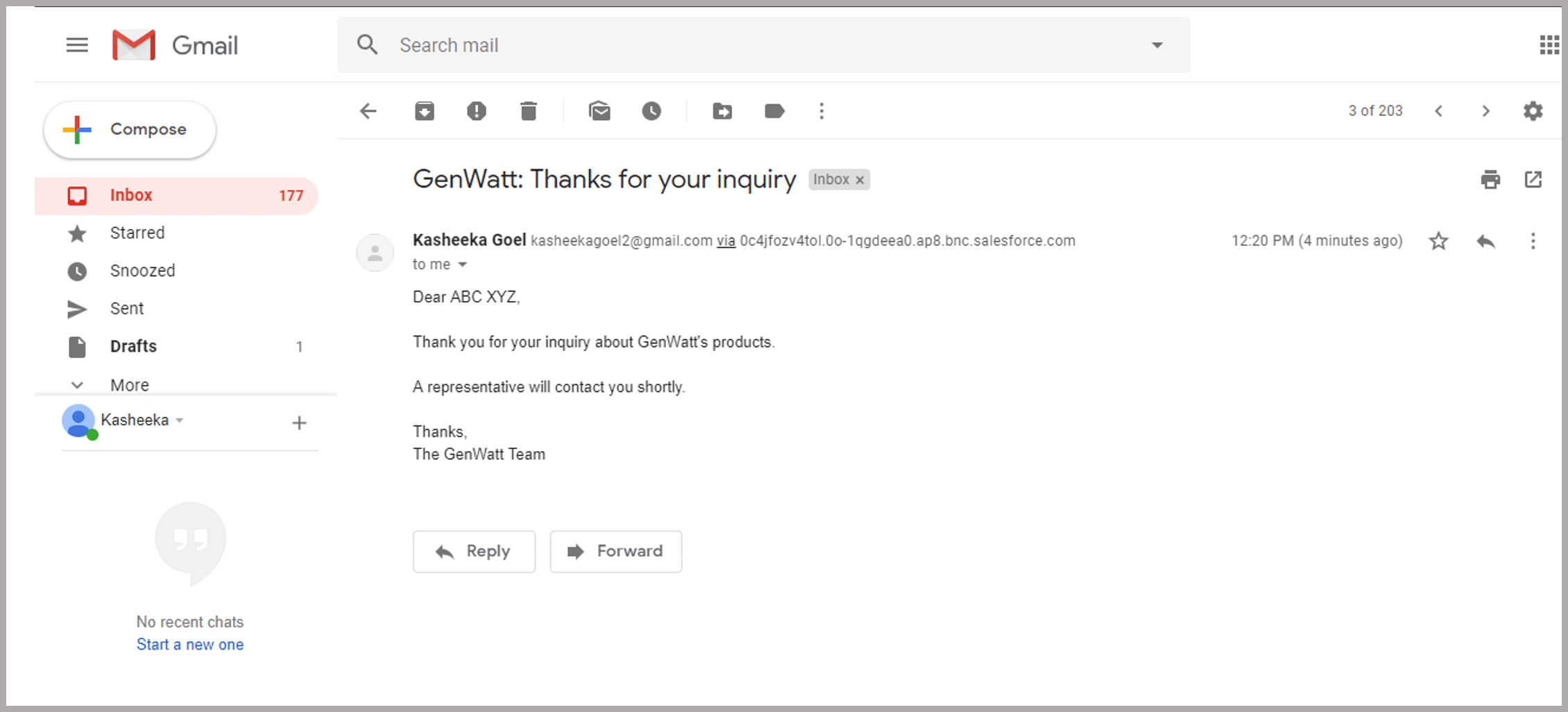 Now, for the time-dependent workflow in salesforce actions:
Step 12: In this step, you will try to add the Time Trigger. For that, go to your Workflow Rule page and click on Edit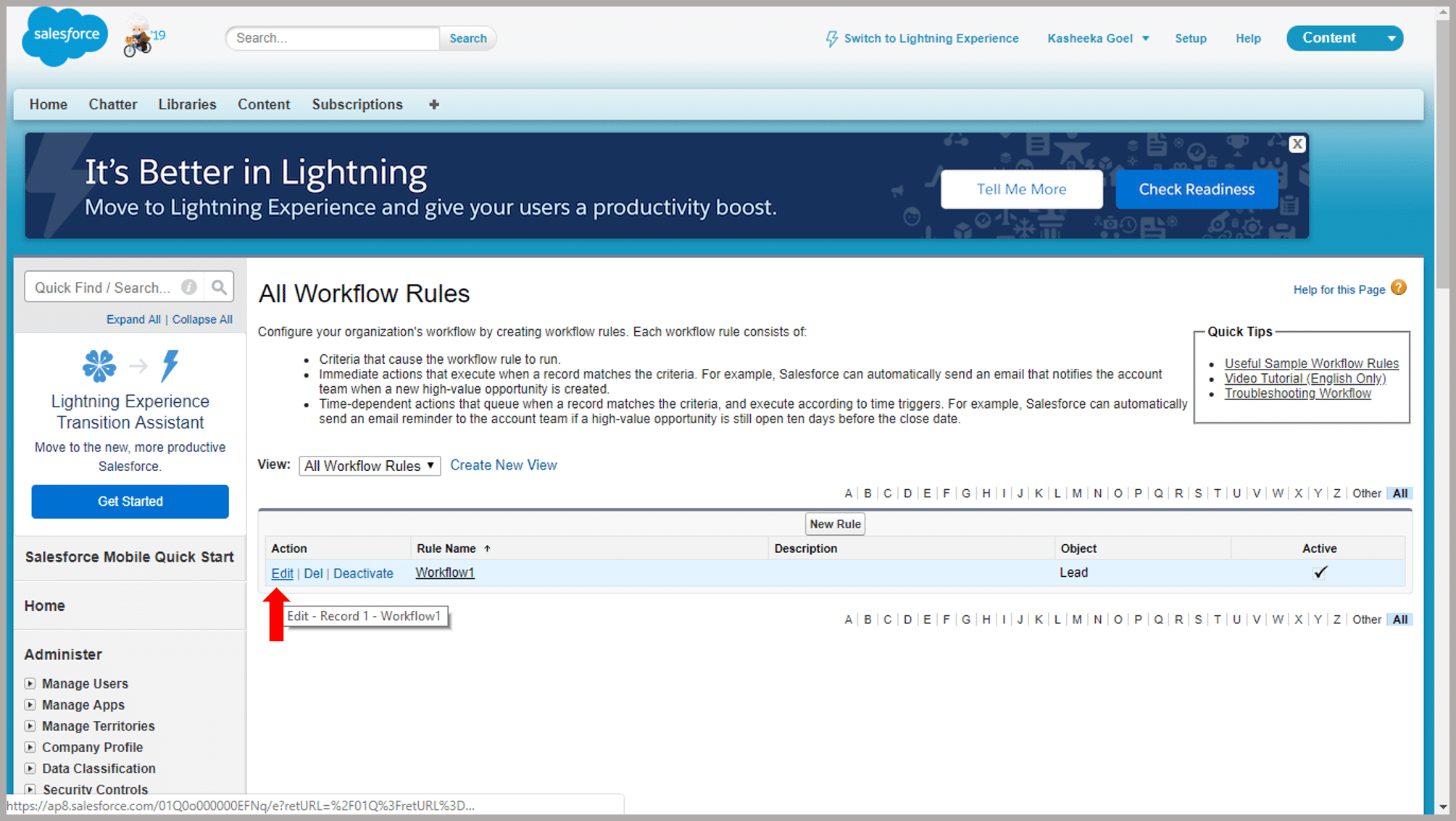 After that, Deactivate the workflow rule and click on Edit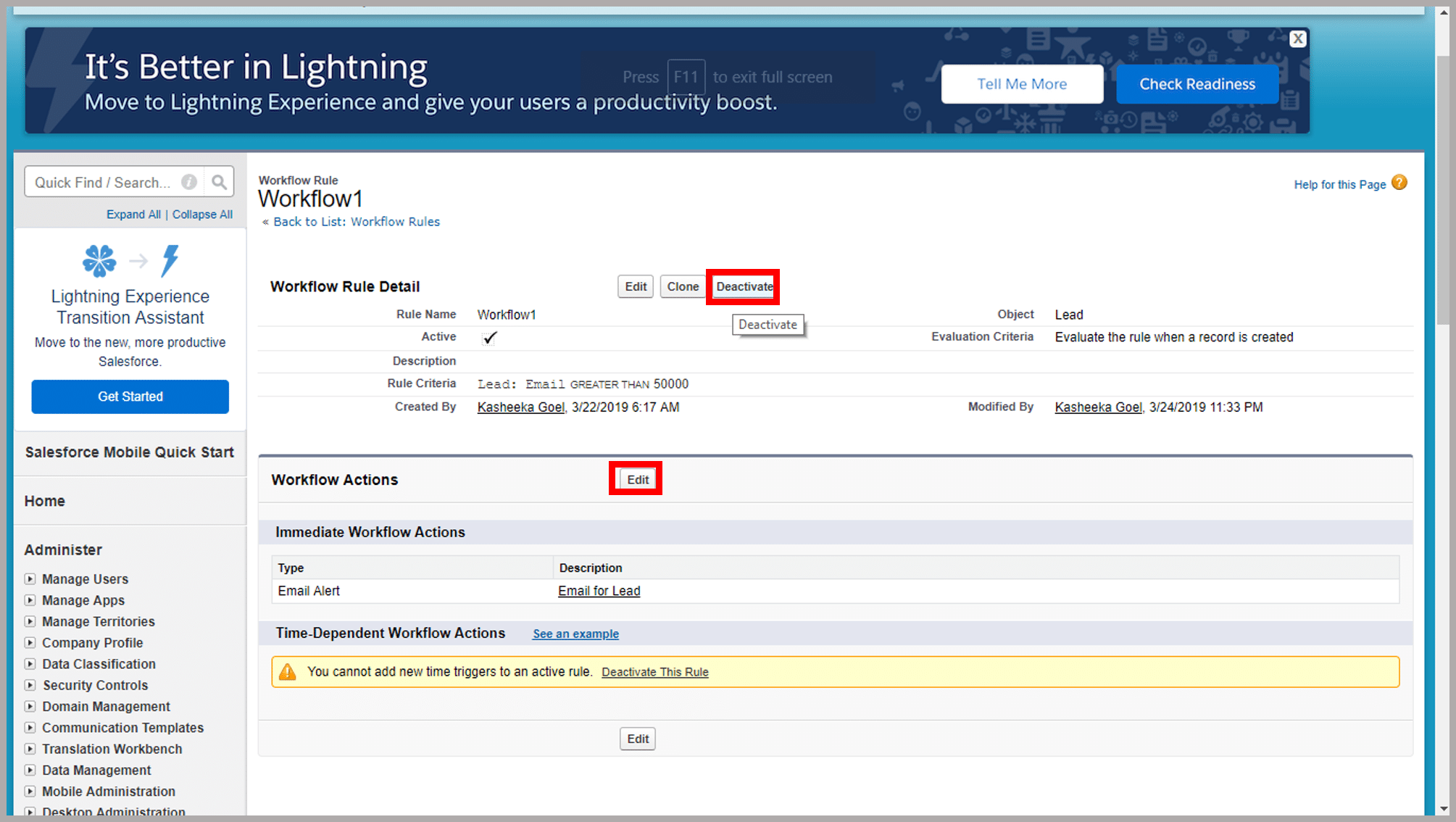 Now, click on Add Time Tigger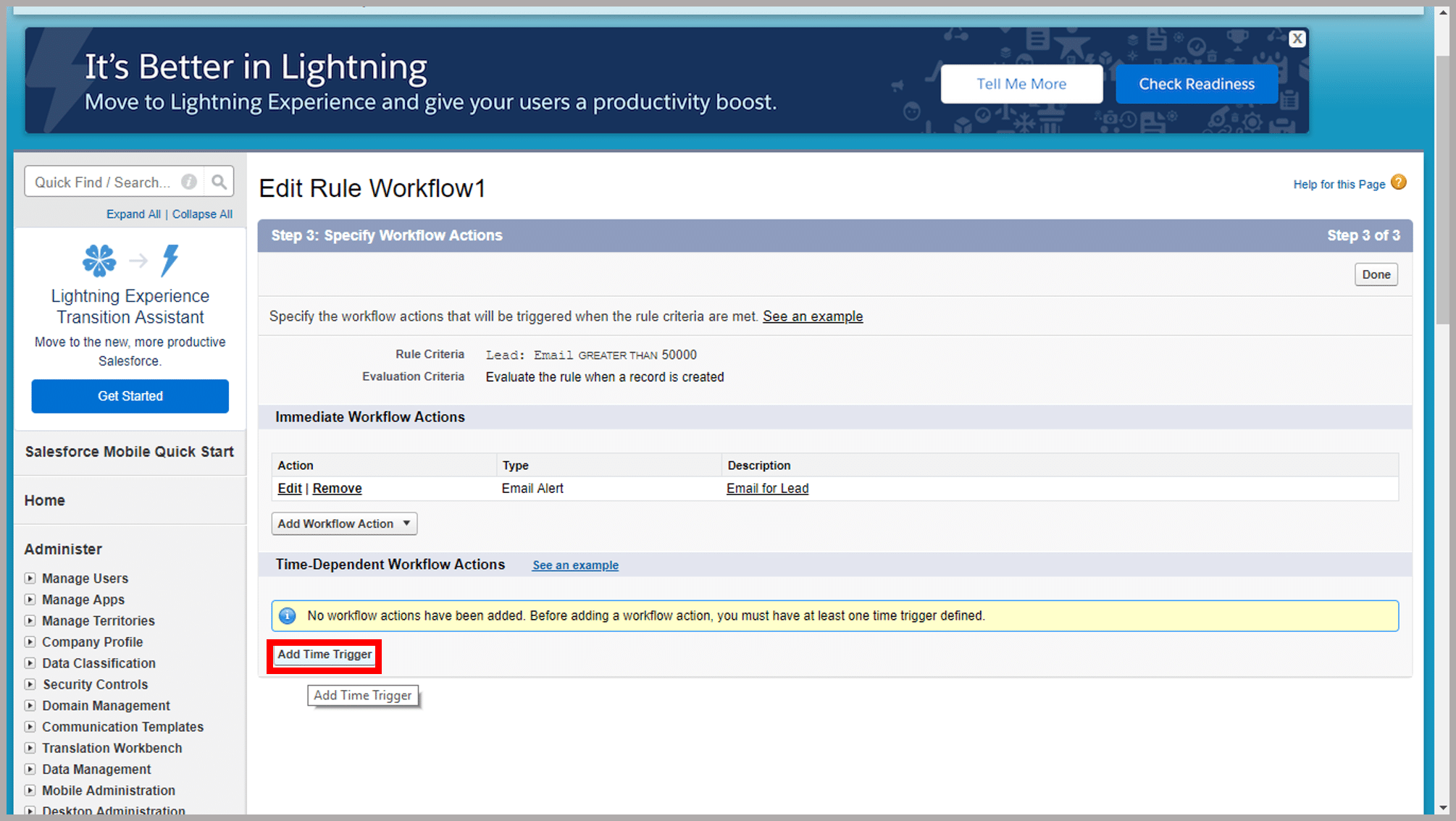 Step 13: Select the number of days, months, or years after which you want the action to be executed and click on Save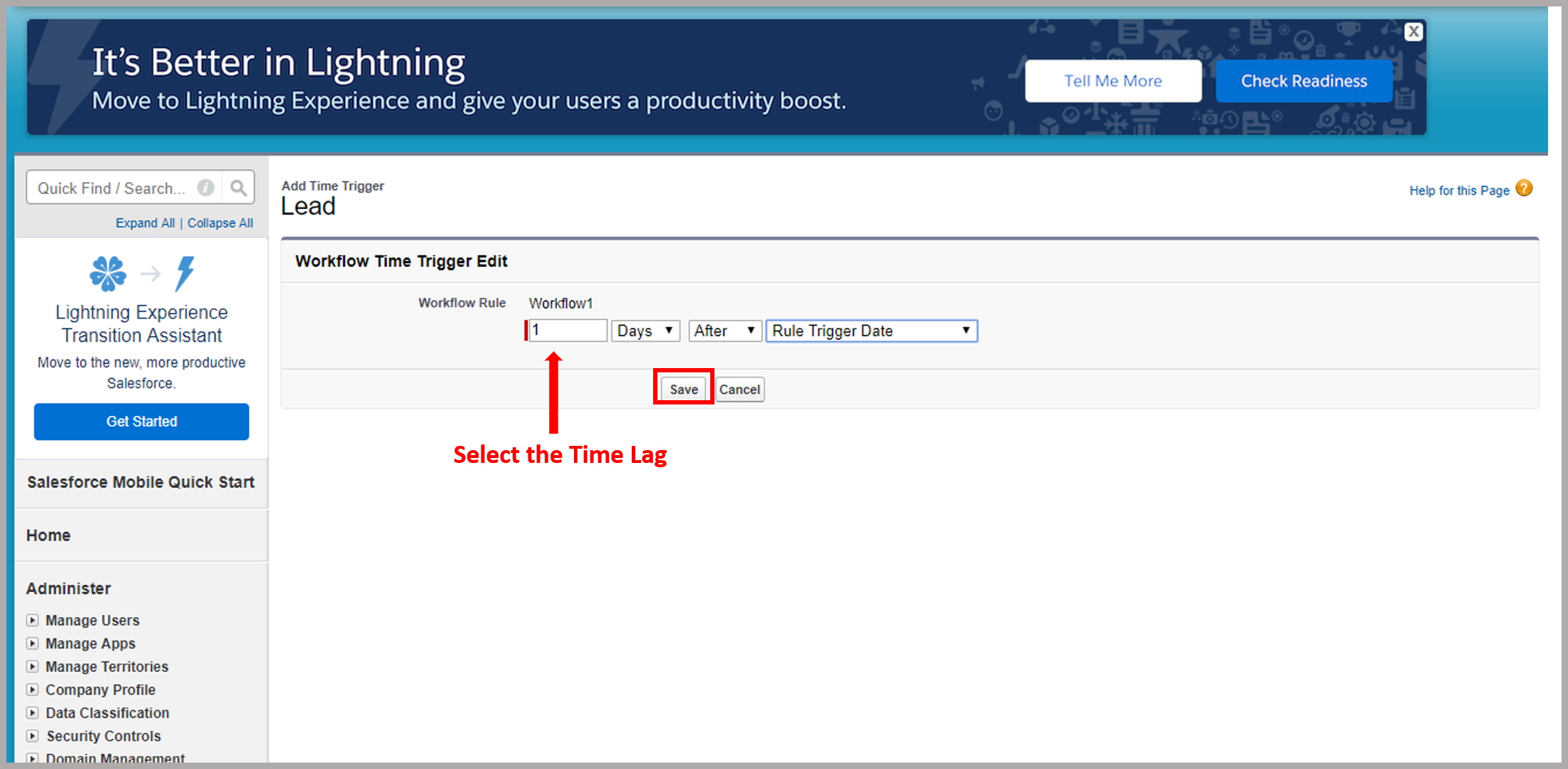 Now, there has a trigger. So, you can add the preferred workflow action. Here, select New Email Alert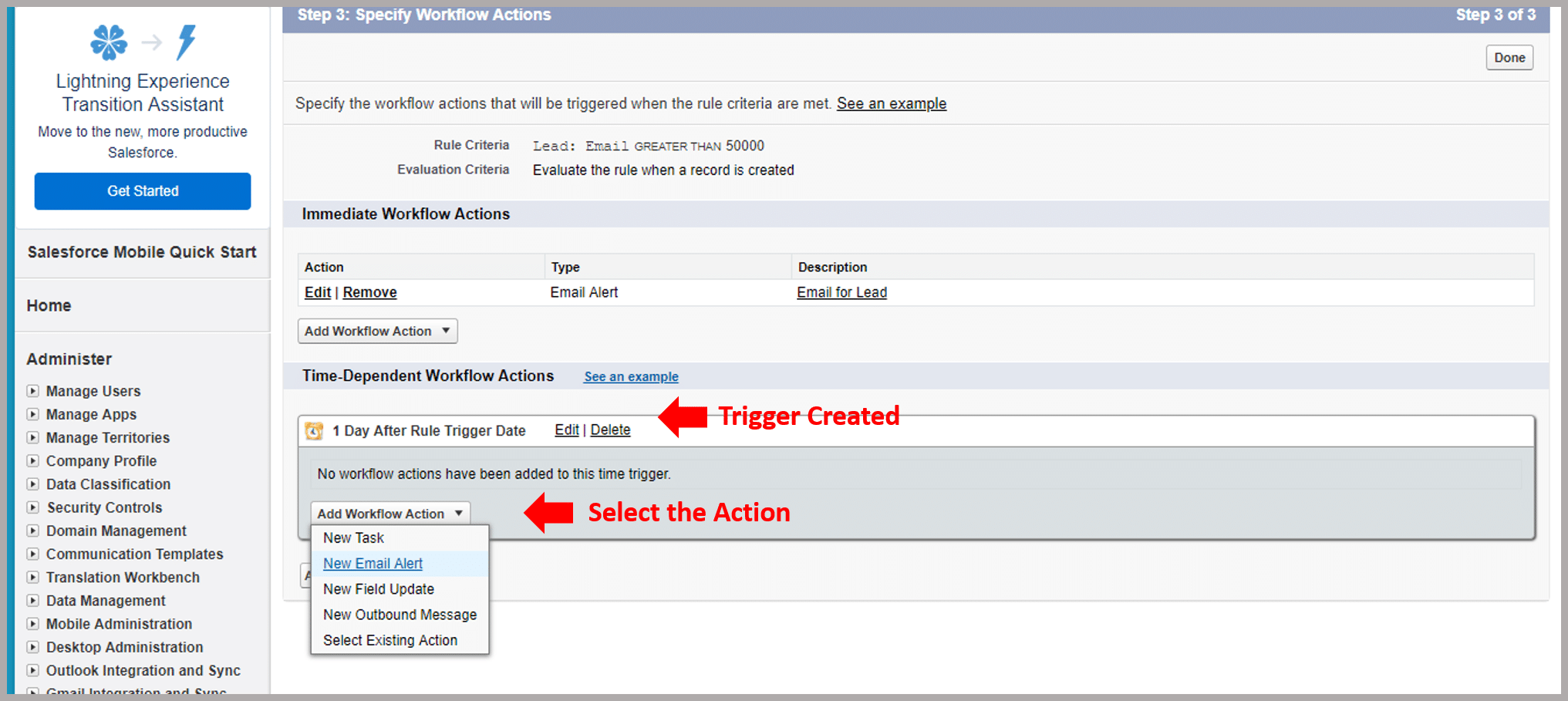 Step 14: Create the email alert as created before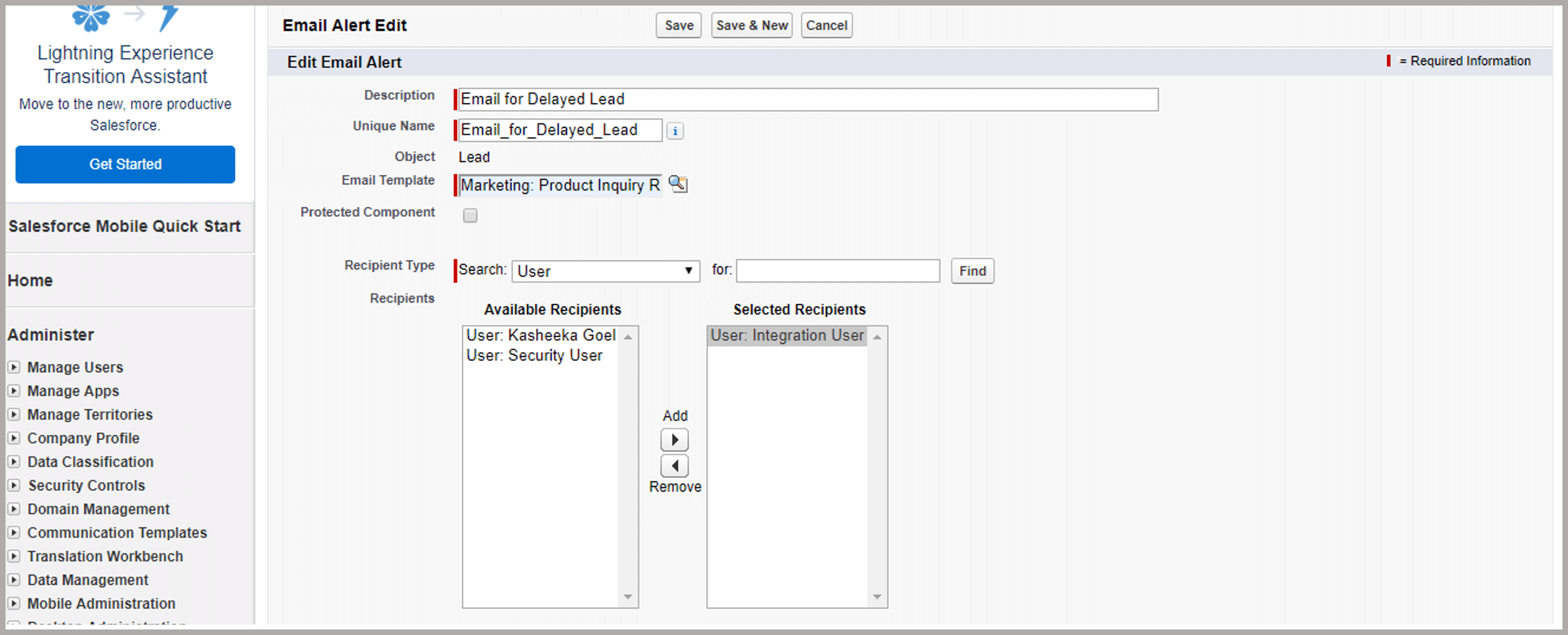 Step 15: Click on Activate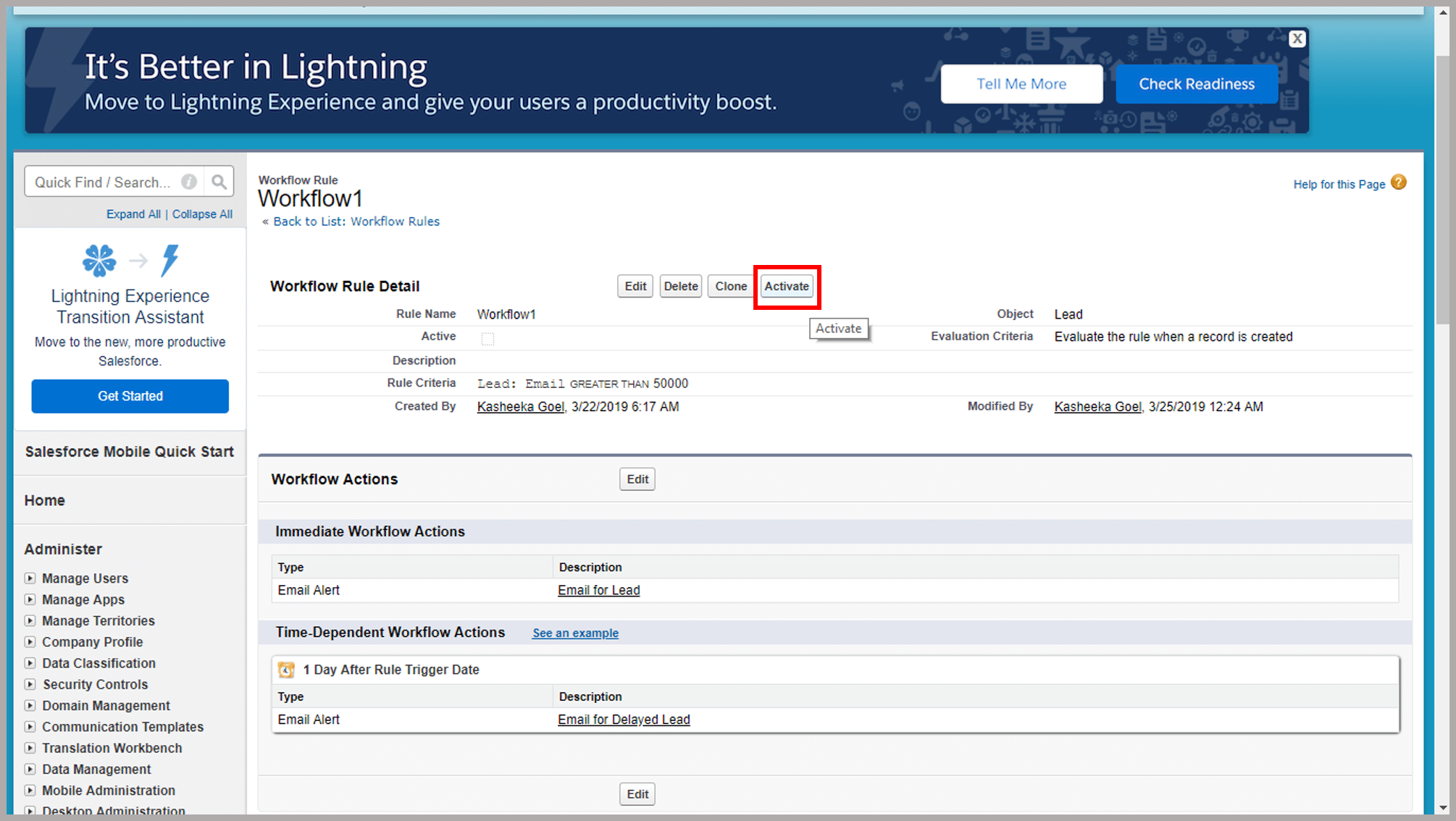 Your workflow in salesforce rule is created successfully!
As we come to the end of this tutorial section on Workflow in Salesforce, I hope you have a complete set of information on what workflow in salesforce is and how to use it.
Need to find a reliable Salesforce partner? Let's ArrowHiTech help you!
If you're considering more Salesforce outsourcing, you can explore more about our Salesforce outsourcing service. Above all, with over many years of experience, we can provide the best Salesforce outsourcing services for your eCommerce business at several levels .
So, if you have any questions, don't hesitate to contact us via Contact us now